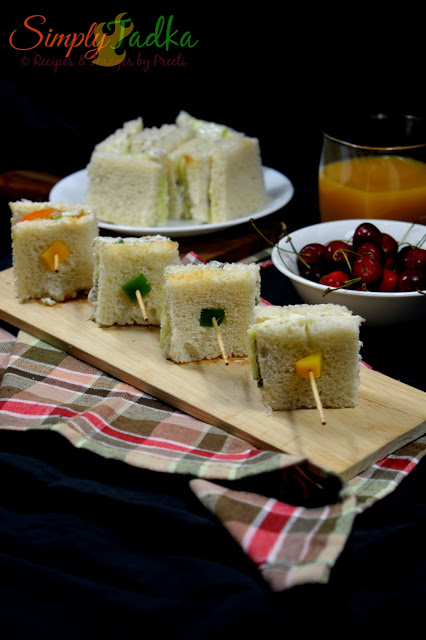 Last Updated on
Mini
Sandwiches or finger sandwiches are easy to make by using knife to cut into
mini shape or by using a cookie cutter for funky shapes to impress your little
ones. These sandwiches are small in size but soft and healthy in taste, even
perfect for your little one's lunchboxes.
To make this
finger sandwiches I used homemade sour curd, cucumber, butter, mint and seasoning.
These types of sandwiches are a healthy, easy and inexpensive way to fill the
kid's empty tummy. Even you can serve this sandwich in party or as a tea snack.
Mini Cucumber Sandwich | Finger Sandwich Recipes | Lunchbox Recipes
Preparation Time: 15 Minutes
Cooking Time: 0 Minutes
Servings: 4
Category: Sandwiches
Cuisine: Fusion
Cooking Method: No Cooking
Ingredients
8 Bread
Slices
2 Large
Cucumber, Sliced
Salt to
taste
Butter,
Melted
1/2 Cup
Hung Curd
1/2 Tsp.
Chili Flakes
1/2 Tsp.
Pepper Powder
1/4 Cup
Mint Leaves, Chopped
1 Tbsp.
Coriander Leaves, Chopped
1 Tbsp.
Lemon Juice
Instructions:
For Hung Curd Spread
Combine
hung curd, chili flakes, pepper powder, mint leaves, coriander leaves, salt and
lemon juice together in bowl.
Keep it
in freeze for at least 15-20 minutes before using.
How to Assemble
Apply
butter on both sides of bread, now apply hung curd spread evenly and place the
few cucumber slices.
Cover it
with another bread slice and trim the edges gently.
Repeat the
same process to prepare more sandwiches.
Serve fresh
sandwiches with fresh juice.
Notes: You can add tomato
slices also. Try to use multigrain bread or brown bread for healthy version.
Tags:
how to make mini cucumber sandwiches, sandwiches, cucumber, bread, kids
friendly, lunchbox, breakfast recipes, cucumber sandwiches, fusion, no cooking
recipes, summer recipes, kids delight, blogging marathon, curd recipe, sour
cream, lemon, tiffin recipe, picnic recipes, finger sandwiches.
Did you make this recipe?
If yes, do let us know how it turned
out in the comments below. Do share a picture with us
simplytadka@gmail.com
or
share on instagram with hashtag #simplytadkarecipes and tag us
@simplytadka
Check out the Blogging Marathon page for the other Blogging Marathoners doing this BM#78