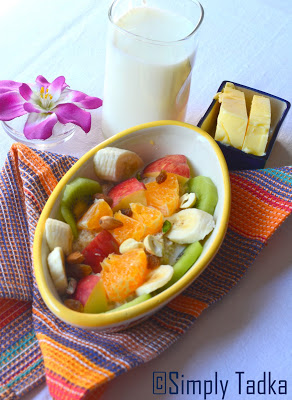 Last Updated on
Muesli is a
breakfast cereal developed at the turn of 20th century by the Dr. Maximilian
Bircher-Benner, a Swiss nutritionist. He introduced a dish of grains, nut,
milk, cream and honey for the patients at his sanatorium. This recipe is widely
popular in Europe and has since spread around the world. Variations on the
basic theme are endless.
Muesli is a
breakfast and brunch recipe based on raw rolled oats, fruits, and nuts and
mixed with milk or juice. It's a very easy and quick recipe, you can serve chilled
or hot both variation of muesli. For chilled version, you have to soak the oats
in juice or milk overnight and for hot version, you have to give quick stir in
hot milk and served with other ingredients.
Muesli (Swiss Oats and Fruit Breakfast)
Preparation Time: 2 Hr.
Cooking Time: 0 Minutes
Servings: 2
Category: Breakfast
Cuisine: Swiss
Ingredients:
2 Cups Rolled
Oats
2 Cups Milk or
Fruit Juice
2 Apples, Diced
1 Oranges,
Peeled and Sliced
1 Kiwi, Diced
1 Banana, Chopped
1/2 Cup Almonds,
Raisins, Pistachios, Chopped
Honey to Taste
1/2 Cup Yogurt
or Cream
Instructions:
Mix the Oats
with milk or juice in a bowl. Cover and refrigerate overnight or at least 2
hours.
Combine fruits,
nuts, and honey to taste. Top with cream or yogurt and serve cold with fresh
orange juice.
Notes:
Even you can serve muesli as a hot cereal. For this you have to just
stir the oats or grain in hot milk or hot juice and compile with fresh fruits
and nuts.
Tags: how
to make museli, museli breakfast, swiss breakfast, healthy breakfast, international
breakfast, world cuisine, simply tadka, blogging marathon, oats recipes, nuts
recipes, fruit recipes, milk recipe, instant recipes, simple and easy recipe.
Check out the Blogging Marathon page for the other Blogging Marathoners doing BM# 56
Enter your email address:
Delivered by FeedBurner