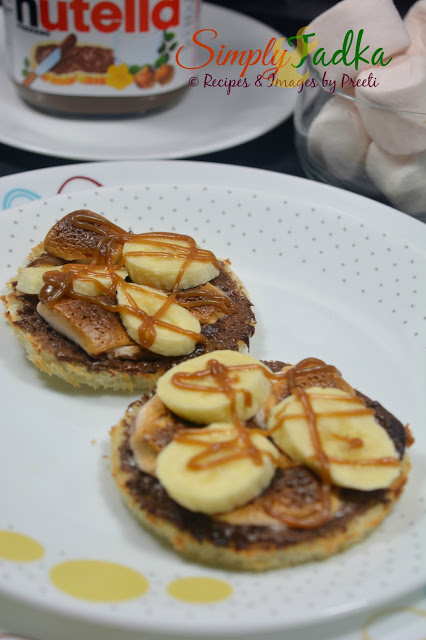 Last Updated on
Sometimes I tried
some fusion or you can say experimental recipes for my readers and this is one!
I'm an equally love toast like chocolate: savory, sweet or simple.


A toast with
Nutella spread, grilled marshmallows, sliced bananas and caramel sauce. It's a fantastic
treat for breakfast with extra sweetness. If you also like sweet or desserts in
breakfast like me… so it's a great option for you.
Topping can
be replaced with you choice…. like nutella replace with peanut butter or almond
butter, banana with strawberries or raspberries and caramel sauce with chocolate
sauce or fruit sauce.
Nutella Marshmallow Caramel Toast |
Chocolate Recipes


Preparation Time: 15 Minutes
Cooking Time: 10 Minutes
Servings: 2
Category: Breakfast
Cuisine: Fusion
Cooking Method: Baking
Ingredients:
1/2 Cup
Nutella
4 White
Bread Slices
Few Mini
Marshmallows
1 Banana,
Slices
1/2 Cup
Caramel Sauce
For Caramel Sauce
1 Cup
Brown Sugar Or White
1 Cup
Fresh Cream
100 gm Butter
Instructions:
Preheat
the oven on 200degree Celsius.
Cut the
bread slices into round shape with the help of cookie cutter.
Spread
the nutella evenly on the bread as base.
Place
the broken marshmallows on the top of nutella bread.
Bake
the bread in preheated oven for 4-5 minutes until marshmallow starts melt.
Take
them out and place the banana slices and garnish with thick caramel sauce.
How to Prepare Caramel Sauce:
Place
the butter and brown sugar in saucepan and stir until the sugar is dissolved.
When
sauce starts thicken slightly, add cream and mix it gently.
Remove
from the flame and stir until the smooth consistency.
Notes: You can replace the
nutella with peanut butter.
Be careful at the time of baking,
marshmallows will easily burn.
You can replace banana also with
strawberry of kiwi.
Tags: toast recipes, caramel
recipes, blogging marathon, simply tadka, quick and simple recipes, bread
recipes, chocolate recipes, marshmallow recipes, banana recipes, nutella
recipes, desserts, breakfast, instant recipe, kids love, tiffin recipes,
valentine recipes.
Check out the Blogging Marathon page for the other Blogging Marathoners doing this BM#73
Enter your email address:
Delivered by FeedBurner