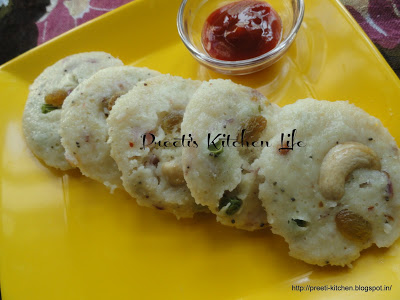 Last Updated on
Today I post "Oats Raava Idli" under Rich Calcium food theme in BM#
20. You can serve this idli as a starter or breakfast meal, accomplished with
tomato sauce and Juice. Oats are generally considered "healthful", or a health
food, being touted commercially as nutritious. The discovery of the healthy cholesterol-lowering
properties has led to wider appreciation of oats as human food. Oatmeal is a
full source of calcium and proteins.
For this recipe, first we mix oatmeal and
raava together with curd as a batter and mix onion peas tempering in it for
flavors and decore with few raisins and cashew. We love the taste of oats idli
with sauce… a complete meal for breakfast.
Ingredients:
1 Cup Oats (Powdered)
1 tbsp. Semolina/ Sooji
1 Cup Sour Curd or Buttermilk
Salt to taste
A Pinch of Fruit Salt
For Tempering
2 Tsp. Ghee
1/2 Tsp. Mustard Seeds
1/2 Tsp. Bengal Garm Lentils (Chana Dal)
1/2 Tsp. Black Gram Lentils (Urad Dal)
3-4 Curry Leaves
1/4 Cup Chopped Onion
1 Chopped Green Chilli
1/4 Cup Peas (Boiled)
Few Raisins and Cashews
Directions:
For Tempering
Heat the ghee in the pan on medium flame. Add mustard seeds, curry
leaves and both dals (chana and urad), when they start crackle. Add onion,
green chilli in it. Cook till to tender and add peas. Cook for 5 minutes and
keep aside to cool.
For Oats Raava Batter
Combine sooji, oats, salt, Fruit Salt and whisked curd together. Now
add cool tempering in it and mix well.
Now grease the idli mould with little oil and place the 1 tbsp.
batter in each mould. Now place one cashew and 2-3 raisins on each idli batter.
Set the idli mould in idli cooker to
cook for 15-18 minutes on medium flame.
Serve this hot rich and low cal idli in breakfast or in evening
snacks with coconut dip or tomato sauce.
Submit this Idli recipe with following events:
Blogging Marathon page for the other Blogging Marathoners doing BM#19
30 Minute mela