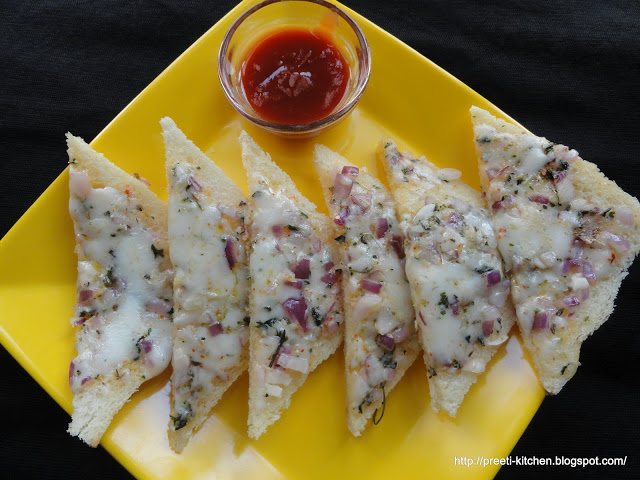 Last Updated on
Today I post onion
cheese grill toast………under blogging marathon…….in this recipe we combine many
ingredients of Italian and Indian Kitchen…… Oregano and cheese from Italian
Cuisine and kasuri methi, red chilli powder from Indian cooking.
Now Indian tadka is…I
do this with normal daily bread slice and cooking techniques is grill tawa
instead of baking……..Hope my food lover like my cooking touch……please tell me
your views through comments…….which gives me soo much motivation.
Ingredients
5-6 bread slices
1 onion (fine
chopped)
2-3 cloves of garlic
(grated)
2 tbsp. mozzarella cheese
1 green chilli
(grated)
1 tsp. oregano
1 tsp. kasuri methi
(crushed)
Salt to taste
1 tsp. red paprika or
red chilli powder
2 tsp. butter
Vegetable oil for
greasing
Directions
In a bowl, combine,
butter, cheese, onion, garlic, paprika, salt, herbs, chilli together and mix
well just like a paste or spread. Now take a bread slice and cut the edges of
bread and spread the cheese paste on the bread one side. Heat the grill pan and
grease with few drops of vegetable oil or olive oil and place the bread. Now cook
bread from the both side until look golden and crisp from one side and from the
topping side….cheese start melting.
Serve hot Onion
Cheese Grill Toast with tomato dip.
Submit this toast recipe with following events:
Blogging Marathon page for the other Blogging Marathoners doing BM#15