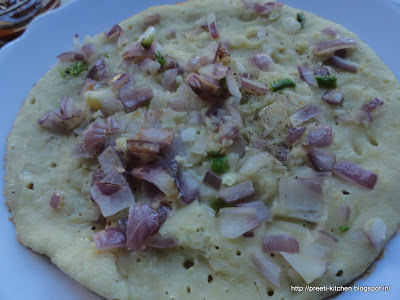 Last Updated on
Today I post "Onion Uthappam" in "Low
Calorie Breakfast" under Blogging Marathon #20. For this recipe, we made the
fine batter with mix lentils and add chopped green chilli and onion as a
topping. It's a really great option for breakfast as a low calorie meal because
under this we used differ type of Indian lentil which are the great source of
proteins, dietary fibre, vitamin B and minerals. Its contain lots of iron which
good for human bones specially.
You can serve Uthappam with sambhar or
sauces and accomplish with juice in breakfast, as in this recipe I choose onion
as a topping, you can change according to availability or preference like
carrots, tomatoes, capsicum, beans more veggies. Hope so my friends like this
recipe…
Preparation time: 1 Hr 15 Min
Cooking time: 5 Min per Uthappam
Serving: 2 Uthappam
Ingredients
1/4 cup Split Skinless Black lentils/
Dhuli Urad Dal
1/4 cup Bengal Gram/ Chana Dal
1/4 cup Yellow Pigeon Lentil/ Arhar Dal
Salt to taste
Black Pepper Powder
1/2 cup Onion, Chopped
1 Green Chili, Finely Chopped
1/4 tsp. Fruit Salt
1 Tbsp. Oil
Directions
Wash and soak the all three pulses in water
for more than one hour. Now drain the water and make smooth paste in grinder. Combine
salt and chopped green chillies. Add fruit salt into the paste and mix it well.
Now grease the non-stick tawa with the oil
and pour the full ladle of batter on hot tawa in round and thick equally form
and sprinkle onion on the top of uthappam and spread little oil more… cook it till
to golden… sprinkle little black pepper
and salt on the top of uthappam. Serve hot uthappam with sauce or shambar.
Blogging Marathon page for the other Blogging Marathoners doing BM#20