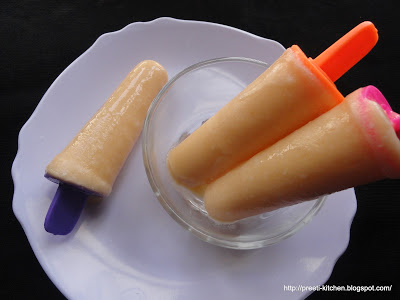 Last Updated on
Today I post "Orange
Yogurt Pop" for Blogging Marathon #15 Under Kid's delight – fruit theme. Hope
all kids and mommas definitely like this yummy, quick, simple and creamy
texture freezer pop.
Ingredients
2 cup fresh Orange
juice
1 cup Yogurt (you can use flavor yogurt also)
2 tbsp. powdered
sugar
Method
In a bowl, combine
all ingredients together and whisk well.
Now place the
material into kulfi moulds or ice-cream mould and place in the freezer for 6-8
hours to set. Now for unmoulding, you have to dip the mould into water for few
seconds.
Serve chilled orange
yogurt pop to your little champ…hope kids love this…..Enjoy.
Submit this recipe
with following events:
Blogging Marathon page for the other Blogging Marathoners doing BM#15