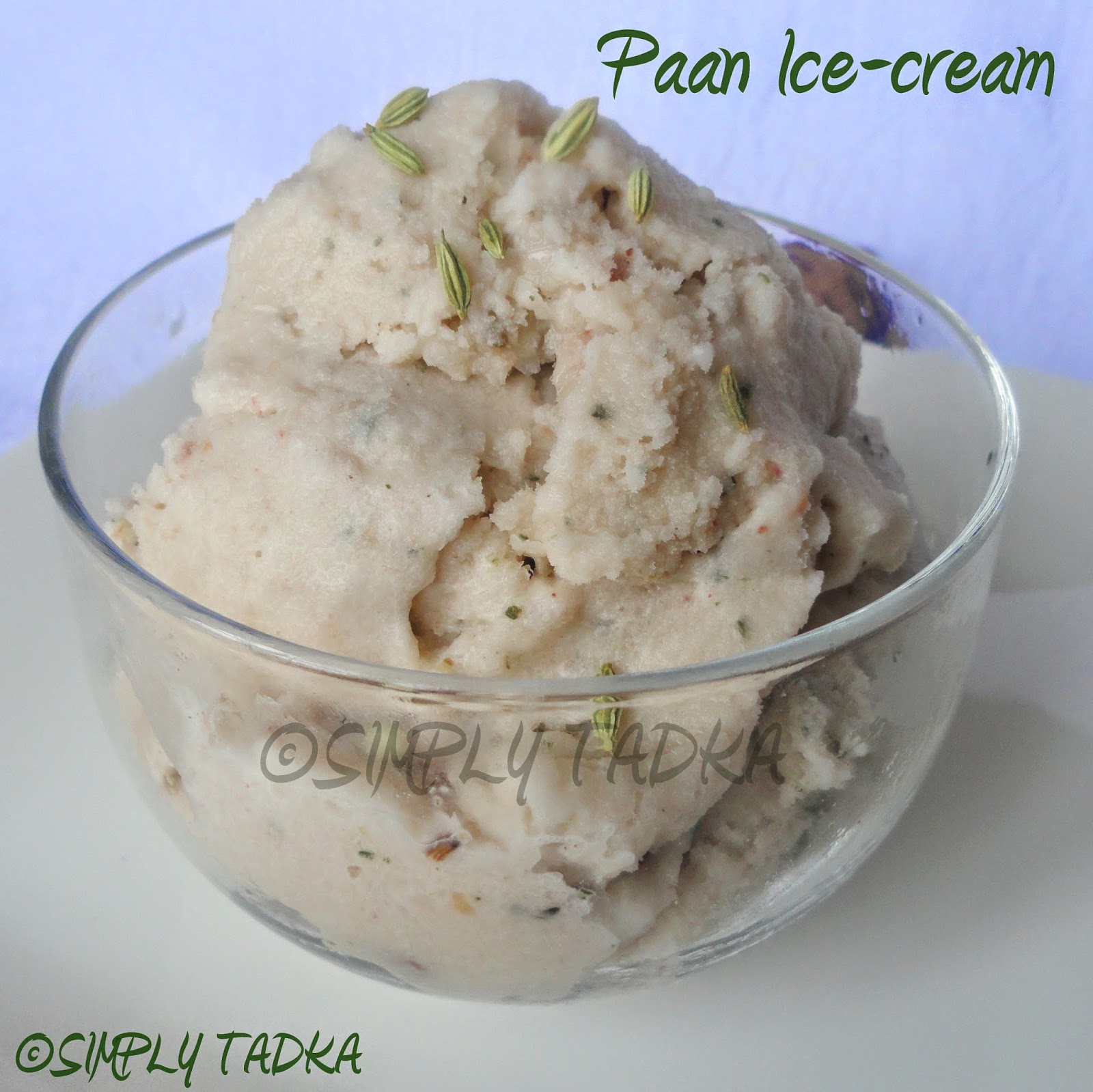 Last Updated on
Preparation
Time: 20 Minutes + Chilling time
Cooking
Time: 10 Minutes
Servings:
2
Category:
Frozen/ Ice-creams
Ingredients:
1 1/2 Cup Milk
1/4 Tbsp. Cornflour
1/3 Cup Sugar
1/2 Cup Cream
For
Flavoring
1-2 Betel Leaves/ Paan Ke Patte
1/2 Lemon Juice
1/2 Tsp. Cardamom Powder
1 Tbsp. Dates (Chuhara)
1 Tsp. Fennel Seeds/ Saunf
1 Tbsp. Gulkand
Pinch of Menthol
Instructions:
Grind the betel leaves and lemon juice as
paste.
Add other flavoring ingredients with
paan mixture. Keep aside this flavoring mixture.
Mix the cornflour in 1/4 Cup cold milk
and keep aside.
Boil the milk in thick bottom pan and add
sugar. Boil for 10 minutes.
Add cornflour mixture and boil for 5
minutes more till to little thick consistency.
Keep aside to cool and add cream and paan
mixture into cool milk. Whisk it.
Pour this mixture into container, cover
and place in freezer for 3-4 hours.
Remove from the freeze and blend it
completely till to smooth.
Again Pour this smooth mixture into
container, cover and place in freeze till to set.
Serve chilled Individual scoop of paan
ice-cream in cup.
Note:
Add paan mixture, when milk becomes
completely cool, otherwise curdles comes in milk.
Tags
: How to prepare paan icecream, betel icecream, icecream
recipes, summer recipes, dessert recipes, frozen recipes, how to make icecream
at home, paan recipes, paan icecream, kid special, menthol recipe, gulkand
recipe,
Blogging Marathon page for the other Blogging Marathoners
doing BM#41
Enter your email address:
Delivered by FeedBurner