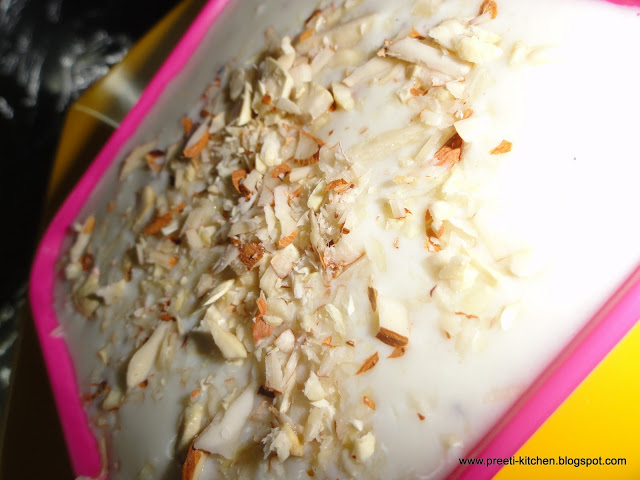 Last Updated on
Let's start with
something sweet.
Today I have post
for blogging marathon #12 hosted by srivalli under the theme of paneer cuisine
on the first day of blogging marathon, so I was tried something sweet but quite
different with paneer. May be our viewers and friends like this and will try
one time at own kitchen. When I was tried this recipe at my kitchen my family
and one of my family friend liked so much.
Ingredients
Crumble Cottage cheese (paneer) 
2 tbsp.
Milk 3 cup
Sugar    ¾ cup (Up to
taste)
Green cardamom powder    ½
tsp.
Mix nuts  2 tbsp.
(Raisins, Pistachios, Almonds, Cashews)
Method
Take milk in a pan and heat until it
is condensed to 2/3 in quantity.
Now add mix nuts and cardamom powder
in it and mix well.
Put sugar in reduced milk and
mix well.
At last, add cottage cheese
(crumbled) in milk and mix well for 2 min. Remove from the fire.  
Sprinkle almonds and cashews
over it for garnishing.
Serve hot or chilled as u
like.
submit this recipe with this event 
Blogging Marathon under paneer cuisines.
Blogging Marathon page for the other Blogging Marathoners doing BM#12