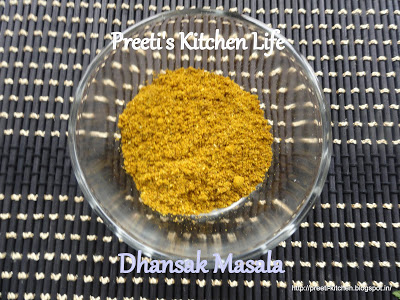 Last Updated on
How to prepare Dhansak Masala
Preparation Time: 10 Minutes
Cooking Time: 5 Minutes
Serving:  1/2 Cup Masala
Ingredients:
1 Bay leaf/ Tej Patta
4 Piece Whole Dried Red Chili/ Sabut Sukhi Lal Mirch
2 small Piece Cinnamon Stick/ Dalchinni
1/2 Tsp. Black Mustard Seeds/ Rai
5-6 Cloves/ Long
 1/2 Tsp. Black Pepper/ Kali
Mirch
1 Tsp. Cumin Seeds/ Jeera
1 Tbsp. Coriander Seeds/ Sabut Daniya
1 Tsp. Turmeric / Haldi
2 Black Cardamoms / Kali Eliachi
1/2 Tsp. Mace/ Javitri
1/2 Tsp. Fenugreek Seeds/ Methi Dana
Directions:
Roast all the ingredients in the pan except mace. Grind it together
for fine powered. Now you use this Dhansak masala for Parisian Cuisine.
Note: you can preserve this masala for 3-4 months in airtight glass
jar with tight lid.