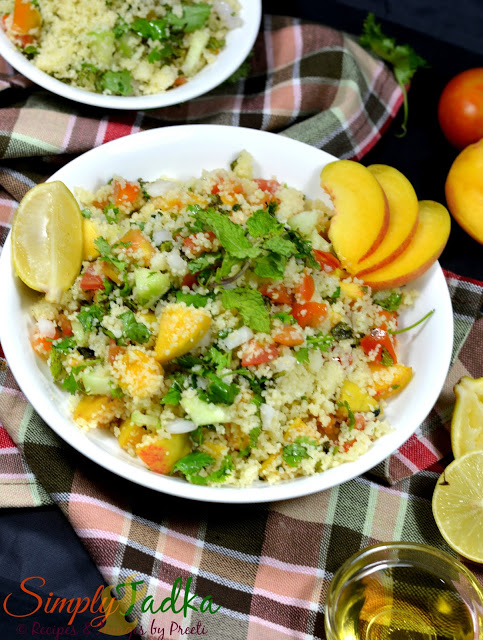 Last Updated on
Peach
Tabbouleh is very aromatic and flavorful salad recipe which made with cooked
couscous, peach, onion, tomato tossed with pepper, salt and lemon juice.
Peach chunks
add a great twist to this recipe and give the citrus flavor. If couscous is not
available then you can use quinoa or broken wheat also in same recipe.
Peach Tabbouleh | Lebanese
Tabbouleh Recipe
Preparation Time: 10 Minutes
Cooking Time: 10 Minutes
Servings: 4
Category: Salad
Cuisine: Lebanese
Cooking Method: Steamed
Ingredients
1/2 Cup
Peach, Diced
1/4 Cup
Onion, Finely Chopped
1/4 Cup
Tomato, Chopped
2 Tbsp.
Cucumber, Finely Chopped
2 Tbsp.
Mint, Finely Chopped
1 Cup Couscous
Salt to
Taste
Black Pepper
Powder to Taste
2 Tbsp.
Lemon Juice
2 Tbsp.
Olive Oil
Instructions
Boil the 2
cups of water in a saucepan and 1/2 Tsp. Salt. Add couscous into boiling water
and give it quick stir, Cover and keep aside for 10 minutes.
Transfer the
cooked couscous in a bowl, add chopped onion, tomato, peaches, mint, cucumber,
lemon juice, salt and pepper powder.
Add olive
oil and mix gently. Keep in fridge for atleast 2 hours. Before serving, just
give nice toss and serve immediately.
Tags: how to make tabbouleh,
Tabbouleh recipe, peach Tabbouleh recipe, Lebanese recipe, Lebanese salad
recipe, fruit salad recipe, salad recipe, peach recipe, summer recipe, no
cooking recipe, simplytadka, foodblogging, bloggingmarathon, healthy
recipes.
Did you make this recipe?
If yes, do let us know how it turned out in the comments below.
Do share a picture with us
simplytadka@gmail.com
or
share on instagram with hashtag #simplytadkarecipes and tag us
@simplytadka

Check out the Blogging Marathon page for the other Blogging Marathoners doing this BM#78