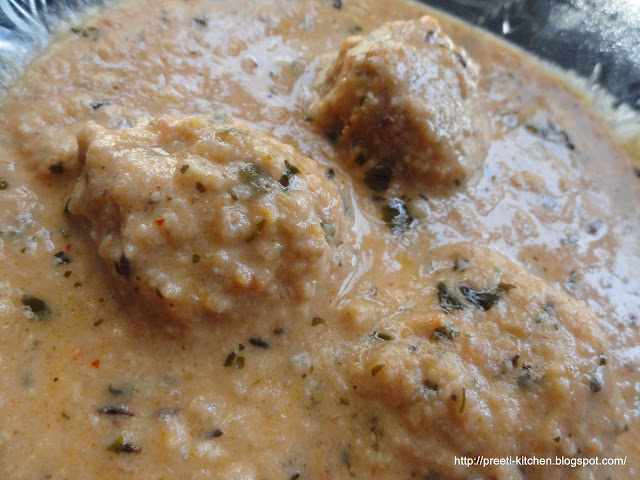 Last Updated on
Today I post "Potato Balls with Red Gravy" under this recipe, yummy
and crispy potatoes and cheese fried balls serve in red creamy texture gravy…..
Ingredients
For the Potato Balls
1 cup boiled and
mashed potatoes
1/2 cup grated
mozzarella cheese
1/2 tbsp. chopped
coriander leaves
1 tbsp. cornflour
1/2 tsp. black
pepper powder
Salt to taste
Bread crumbs for
binding
Oil for deep frying
For the onion and cashew paste
1 cup chopped onion
1/2 cup cashew
(soaked in water for 1/2 hour)
1 tsp. grated
ginger
For the Tomato Puree
3 fresh and red
tomatoes
2 chopped green
chili
Other Ingredients
1 tbsp. butter
1 tbsp. clarified
butter (ghee)
1 tsp. cumin seeds
2 tsp. dried
fenugreek leaves powder (kasuri methi)
Salt to taste
1/2 tsp. red chilli
powder
1/2 tsp. garam
masala
1 tsp. tomato
ketchup
1/2 cup cream
1/4 cup milk
1/2 tsp. sugar
Method
For the Potato Balls
Combine all the
ingredients together except bread crumbs in to a big bowl and mix well. Now
prepare small sized balls with this mixture and toss into bread crumbs. Heat
the sufficient oil into deep wok on high flame and deep fry the balls in it
till they are golden in color. Drain the balls on kitchen towel for removing
excess oil and keep aside.
For the Onion-Cashew Paste
Prepare fine paste
of the cashew, onion and ginger together into mixy.
For the Tomato Puree
Prepare fine puree
of roughly chopped tomatoes and chillies together.
For the Gravy
Heat the ghee into
non-stick pan add cumin seeds when they start crackle, add onion cashew paste
and sauté till light golden in color. Now add tomato puree into the pan and
sauté for 5 minutes.
Now add fenugreek
leaves, tomato ketchup, garam masala and red chilli powder into gravy and cook
for few minutes. Now add milk and cream into gravy and cook for 10-15 minutes.
Add salt, sugar into gravy and mix well. Now garnish with potato balls and
butter.