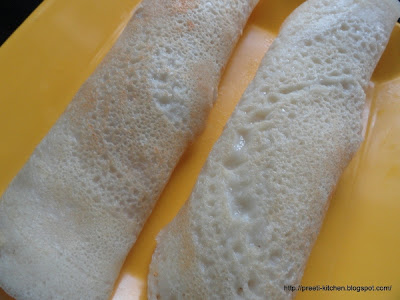 Last Updated on
For
this July month's ICC- Indian Cooking Challenge, Srivalli chose Patishapta, an authentic recipe of
Bengal shared by Sandeepa. I never
heard and tried this recipe. Srivalli suggested Bong Cook Book  post for
reference. Through this link, I got a general idea about this recipe. Thanks
for sharing this wonderful recipe with us.
This is a sweet
that they make during the January month on the Sankranti time. A Bengali sweet dish recipe, patishapta is easy to prepare and a must
have during festivals and winters. The maida and rice flour batter is spread on
a pan and cooked like pancakes. These pancakes are then filled with a sweet
coconut mixture and rolled up. Serve patishapta with thick condense milk as
topping.
For Crepe
1 cup
plain flour or maida
1/2 tbsp.
semolina or suji/ ravaa
1/3 tbsp.
rice flour
1 1/3 cup
milk
1 tbsp.
ghee or clarified butter
For Filling
1 cup
fresh and grated coconut (white part)
1/3 cup
sugar
1 pinch
of green cardamom powder
250 gm.
Mawa or khoya
Other Ingredients
Condense
milk for topping (exceptional)
Directions
For Filling/ Pur
Take
the fresh grated coconut and sugar, mix well using your hands so that the
coconut gets soft. Meanwhile, microwave the khoya for 30 sec to make it a
little soft. When the sugar starts melting, add the softened khoya. Mix well by
using ladle.
Keep on stirring till the mixture turns a light brown and is sticky on the low
flame. At this point the mix should not dis-integrate but should look like a
light brown slightly and takes hardly 15-20 minutes to get this done. Remove
from heat when done. It should not be very dry.
For Crepe
In a big bowl, combine plain flour, suji
and rice flour, Now add milk slowly for making
smooth batter if batter still thick, add little water so that there should be
no lumps in it. Add water till it
comes to a dropping consistency. Now keep it aside.
Heat the non-stick-
tawa, then turn the heat on medium. Put little ghee on tawa & spread 1 large
tbsp. of batter evenly on it and moving the
mixture with back of the ladle, evenly distribute the batter in a circle .Put some more oil in sides & turn it upside
down, so that it should cook inside also.
Let it be little brown and crispy from lower side. Now
add 1 tbsp. stuffing on the crepe lengthwise and fold it. Repeat the same with rest of the batter.
For
Serving (exceptional)
Serve
the hot crepe filling with coconut with topping of condense milk.
Submit this recipe with following events: