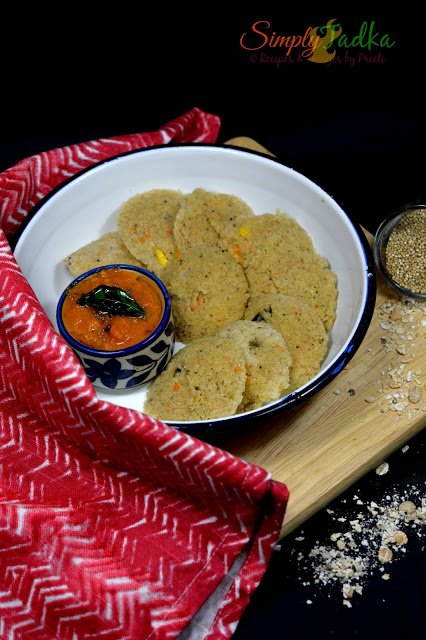 Last Updated on
Quinoa is gluten free
seeds and rich source of protein and fiber. Quinoa is one of the few plant sources
of complete protein, containing all nine essential amino acids. It is also high
in magnesium, potassium, iron, calcium, phosphorus, vitamins and many
beneficial antioxidants.
What I love about quinoa is that, it is not only delicious
but also versatile. You can prepare any dish
with quinoa like idli, snacks, main course or dessert. I tried quinoa in every
course, will share other recipes soon. Oats also protein rich ingredients…
adding both ingredients together with semolina makes awesome snack.
To make this healthy idlis just roasted quinoa and oats in
dry pan and grind them till to ground powder. Combining quinoa, oats and
semolina with sour buttermilk and vegetables to make these tempting idlis and
served with tomato chutney.
Quinoa Oats Idlis
Preparation Time: 30
Minutes
Cooking Time: 20
Minutes
Servings: 4
Category: Snacks
Cuisine: South Indian
Cooking Method: Steamed
Ingredients
1 Cup Quinoa
1 Cup Multigrain Oats
1/2 Cup Semolina
1 Cup Sour Buttermilk
Salt to Taste
Black Pepper to Taste
1 Tsp. Fruit Salt Eno
For Tempering
Few Curry Leaves
1 Tsp. Mustard Seeds
2 Tbsps. Oil
2 Green Chilies
1/4 Cup Onion
1/2 Cup Carrots and Sweet Corn
Instructions
Grind the quinoa and oats together in mixer to get fine powder form.
Transfer into large bowl and add semolina, salt and pepper powder and
mix it.
Add buttermilk and mix it properly to get idli consistency batter.
Now heat the oil in separate tadka pan. Add mustard seeds, curry leaves
when they starts splutter.
Add green chilies, onion, carrots and corn and cook for 5 minutes.
Remove from the flame, add this veggie tadka into idli batter and mix it
gently.
Keep the batter aside for 10 minutes, if batter looks thin or thick then
adjust the batter consistency.
Grease the idli moulds with oil and add fruit salt eno in the batter and
mix it.
Heat the cooker or steamer with ½ glass of water on medium flame.
Pour the batter in moulds and steam for 15-18 minutes in cooker.
Serve with tomato or coconut chutney.
Notes: Insert the toothpick
in idli to check idli cook or not.
Remove the whistle before steaming.
Tags: how to cook quinoa idli, oats idli, idli recipes, quinoa oats idli
recipe, snacks, south Indian cuisine, simplytadka, food blogging, blogging
marathon, protein rich recipe, breakfast recipe, lunchbox recipe, buttermilk
recipe, vegetarian recipe, steam recipes, how to cook idli in pressure cooker
recipe. Rava idli, semolina recipes, pressure cooker recipe.
Did
you make this recipe?
If yes, do let us know how it turned out in the comments
below.
Do share a picture with us simplytadka@gmail.com or
share on instagram with hashtag #simplytadkarecipes and tag us @simplytadka
Check out the Blogging Marathon page for the other Blogging Marathoners doing BM# 80