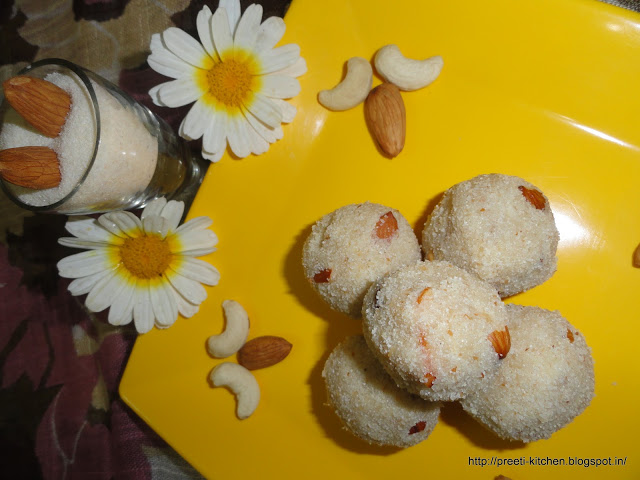 Last Updated on
Ingredients
1 cup Semolina/ rava
1 cup powdered Sugar (according to taste)
1 tbsp. ghee/ clarifying butter
1 tbsp. Coconut powder (grated white portion)
1 tsp. Cashews (chopped)
1 tsp. Raisins
1 tsp. Almonds (chopped)
1 tsp. Cardamom powder
 1 tbsp. hot milk
Method
Heat the ghee in the pan on medium flame and shallow fry or roast
the almonds, cashews, raisins one by one and keep aside to cool.
Roast the coconut powder into pan at medium flame for 2 minutes and
remove in other plate and keep aside.
Now roast the semolina/ raava in the same pan and when aroma starts
coming out.
Now in deep vessel, add roasted nuts, coconut powder, cardamom
powder, roasted raava and sugar. Mix well and now add enough hot milk into
mixture for binding the shape of laddoo.
Check if mixture is able to gather the ball then make the shape of
round laddoo.
Serve this hot and healthy yummy rava laddoo.
Submit this recipe with following events
Blogging Marathon page for the other Blogging Marathoners doing BM#14