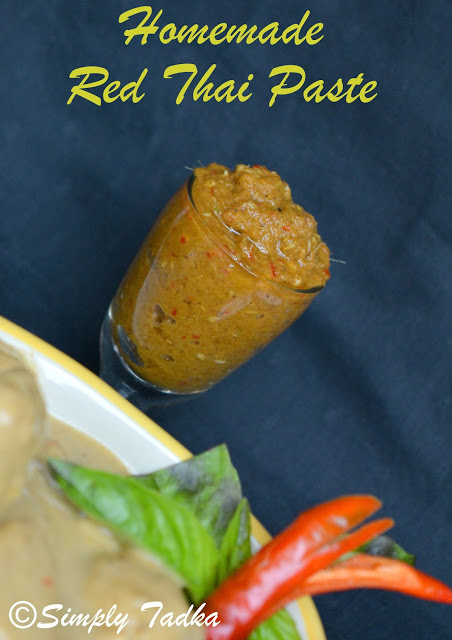 Last Updated on
Red Thai Curry Paste
Preparation
Time: 10 Minutes
Cooking
Time: 0
Servings: 1
Cup
Category:
Basic
Cuisine:
Thai Cuisine
Recipe
Source: Vaishali
Ingredients:
10 Red Chilies, Soaked in warm water for 10
minutes
1 Onion, Chopped
1 inch Piece Ginger, Chopped
2 Lemongrass
1 Tbsp. Coriander Powder
1 Tbsp. Cumin seeds
1/2 Tsp. Black Pepper
1/2 Tsp. Salt
2 Tbsp. Oil
6 Stalks of Green Coriander
Instructions:
Grind all the ingredients in a mixer till to
paste consistency using a little water if needed. Store this paste in airtight
container.
Shelf Life: 3 Months in freeze
Notes: You can add red Kashmiri chilies for more
bright red color paste.
Tags: how to make red thai paste, red thai paste
recipe, homemade red thai paste, thai cuisine, thai food, red chilies,
lemongrass, ginger, simplytadka, basic recipe, international condiments,
blogging marathon.
Check out the Blogging Marathon page for the other Blogging Marathoners doing BM# 56
Enter your email address:
Delivered by FeedBurner