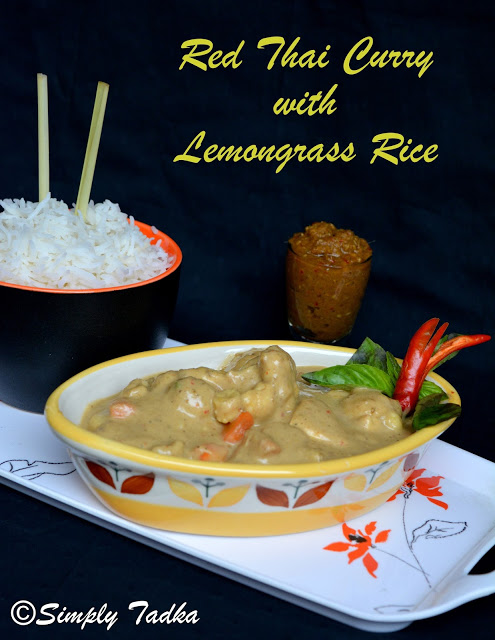 Last Updated on
For the 2nd day of Maha
Blogging Marathon#56, I choose Red Thai Curry (Veg) with Lemongrass Steam Rice
as the combo theme. When talk about combo theme, it's about two recipes which are
complement to each other like chips and dips, coke and fries. After discovering
many recipes of red thai curry on google… I prefer to make this veg red thai
curry from Vaishali's Blog "Ribbons To Pasta's…. simple and delicious curry
recipe. This is completely vegetarian version with simple ingredients. Thai
food is simple and aromatic, spicy and creamy in texture.
Red Thai curry is thai cuisine or thai
food which made with red curry pasate and coconut milk. This curry is made with
vegetables or meat whatever you like but as I'm vegetarian, prefer to add
vegetables which are easily available in market. For this recipe, I prepare red curry paste at
home…will be publish soon.
Lemongrass rice is really simple and
quick recipe which made with lemongrass stem. This lemongrass rice is fragrant
thai rice recipe which served with stir fried thai recipe or thai curry.
Preparation
Time: 15 Minutes
Cooking
Time: 25 Minutes
Servings:
4
Category:
Main Course
Cuisine:
Thai Cuisine
Ingredients:
For
Red Thai Curry
1 Cup Cauliflower, Florets
1/2 Cup Tofu, Diced
1/2 Cup Baby corns, Diced
1/2 Cup Carrots, Diced
6-7 Tbsp. Red Thai Paste
2 Cup Coconut Milk
1 Tbsp Cornflour
½ Tsp Soya sauce
10 Basil Leaves, Chopped
1 Tbsp Oil
Salt to Taste
For
Lemongrass Rice
1 Cup Rice
2 Cup Water
2 Sticks Lemongrass
Salt to Taste
Instructions:

For
Red Thai Curry (veg)
Mix the cornflour with little water as
mixture.
Heat the oil in a large sauce pan, add
red curry paste and sauté for few minutes.
Add Coconut milk, soya sauce, basil
leaves and vegetables.
Cook for 10 minutes till the vegetables
are tender. Add salt.
Boil the curry till to thick consistency.
Serve with Steam rice.
For
Lemongrass Rice
Wash and soak the rice in water and keep
aside for 15-20 minutes.
Wash and chop the lemon grass and keep
aside.
Boil the 2 cup of water in separate
saucepan. Drain the water and pour the rice in boiling water.
Add lemongrass and salt and mix it. Boil
it for 15 minutes on medium flame or till to cook properly.
Discard the lemongrass stalks before
serving with red thai curry.
Notes: You can use broccoli, paneer, red bell
pepper and more vegetables in curry. I prefer to boil the vegetables separately
for this recipe. To cook the rice, you can use microwave method or pressure
cooker.
Tags:
How to cook red thai curry, red thai curry, veg thai curry, thai curry,
lemongrass, red thai paste, thai cuisine, thai recipes, maincourse, rice
recipes, curry recipe, red curry, lemongrass rice recipe, homemade thai paste,
simplytadka, blogging marathon, vegetarian recipe, international combo.
Check out the Blogging Marathon page for the other Blogging Marathoners doing BM# 56
Enter your email address:
Delivered by FeedBurner