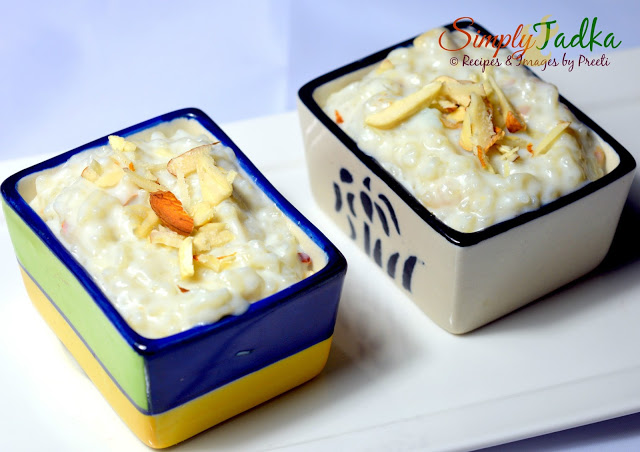 Last Updated on
Traditionally kheer is made
with rice and milk. This creamy rice and milk pudding is flavored with cardamom
powder and full of nuts. In the South, kheer is known as payasam and in the
East it's known as payesh. It is typically served during a meal or as a
dessert.
Once again I started to
participate in Blogging Marathon hosted by Srivalli. For this 72nd Edition I choose Milk
Based Sweets theme for 1st week. Hope all of you like this recipe.
Preparation Time: 30 Minutes
Cooking Time: 30 Minutes
Servings: 4
Category: Desserts
Cuisine: Indian
Ingredients:
5 Cups Full Cream Milk
1/2 Cup Rice
1/2 Cup Sugar or as per
taste
1/2 Tsp. Cardamom Powder
1/4 Cup Mix Nuts, Chopped
(Pistachios, Raisins, Cashews and Almonds)
Instructions:
Wash and soak the rice in
water for 30 minutes.
Take milk in heavy bottom
pan and boil on medium flame.
When milk starts boiling,
add rice. Stir properly and cook on medium flame till the rice is cooked and
soft.
Add green cardamom powder
and chopped mixed nuts. Stir it well.
Add sugar and again mix
well. Let it simmer for 10 minutes.
Serve hot or chilled as you
like.
Notes: To check right
consistency, if rice and milk should fall in same flow, not separated as
earlier stage. Consistency should be thick at the time of serving. You can add
pinch of saffron also for better taste and appearance.
Tags: Rice kheer, payesh,
payasam, kheer, milk based recipes, milk mithai, sweets, desserts,
indiansweets, indian pudding, creamy rice pudding, blogging marathon,
simplytadka, stove cooking, rice, milk, sugar, cardamom, nuts, food blogging.
Check out the Blogging Marathon page for the other Blogging Marathoners doing this BM#72
Enter your email address:
Delivered by FeedBurner