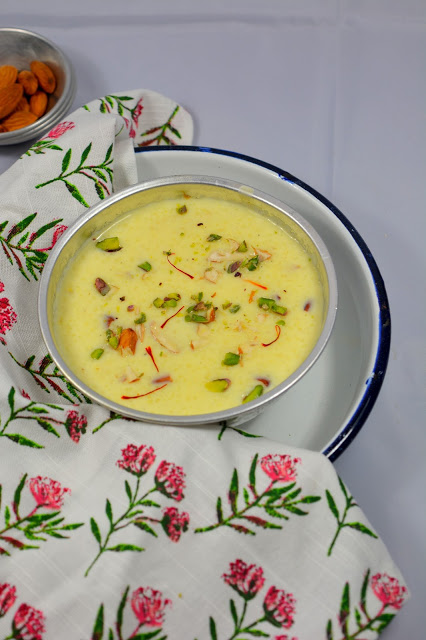 Last Updated on

Samvat rice also known as sama rice or samak ke chawal or barnyard millet. It's
an ancient grains which are gluten free as well as diabetic friendly. Millets
are rich in protein and anti-oxidant grains. Samak grains are allowed during
fasting days and also known as vrat ke chawal.
You can use sama
grain in various dishes like kheer, khichdi, upma, chillas, dosas, idli, tikkis
and many more. You can substitute samak rice with regular rice or rava.
To make samak rice
kheer, just cooked washed samak in milk with dry nuts and cardamom powder. You
can serve chilled or warm whatever you prefer. The taste and texture are
familiar to rice kheer.
Sama Chawal ki Kheer | Barnyard Millet Pudding
Preparation
Time: 10 Minutes
Cooking
Time: 20 Minutes
Servings:
4
Category:
Sweets
Cuisine:
Indian Farali
Cooking
Method: Simmering
Ingredients

1 Liter Milk
2/3 Cup Samak Rice/ Barnyard Millet
1/2 Cup Sugar
Few Strands of Saffron
2 Tbsps. Almonds, Finely Chopped
2 Tbsps. Raisins
1 Tbsp. Pistachios
1/2 Tsp. Cardamom Powder
Instructions

Clean and wash the samak rice in water. Drain the whole
water and keep aside.
Boil the milk in heavy bottom pan. When milk starts boiling,
add samak rice in milk. Stir it and cook on low flame. Stir continuously to
avoid stick at the bottom of the pan.
Wash and soak the raisins in water for 10 minutes to remove
dust.
Cut the pistachios and almonds into small pieces.
Add saffron, nuts and cardamom powder into milk.
Now milk consistency becomes thicken and rice and milk
combines together.
Add sugar and stir it. Cook for 5 minutes more till to sugar
dissolves.
Now kheer is ready to serve. Garnish with more nuts and
serve chilled.
Tags:
how to make samak kheer, kheer recipe, indian pudding recipe, farali kheer,
navratri, falahar, fasting recipes, farali
recipe, barnyrad millet recipes, milk recipe, sweets,
dessert, kheer, samak ki kheer, sama ki kheer, protein rich, simplytadka,
bloggingmarathon, indian kheer.
Check out the Blogging Marathon page for the other Blogging Marathoners doing BM# 80