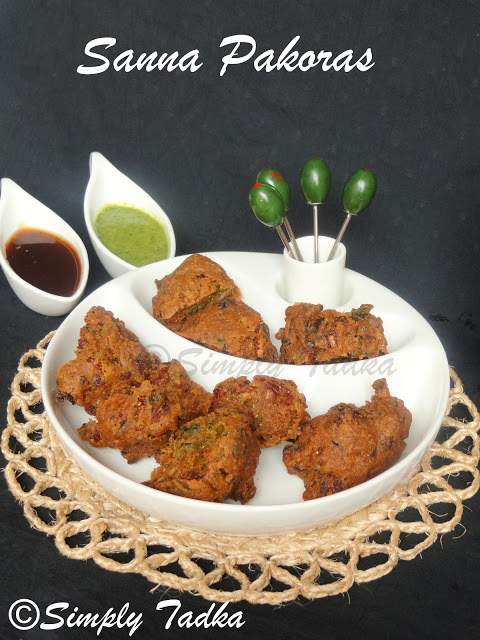 Last Updated on
Sanna Pakoras is fried snacks from Sindhi
cuisine which are made with onion, chilies and gram flour together and served
with mint chutney. I love the crunch and crispiness of these snacks which gives
nice texture. This snack is perfect for monsoon or rainy season with tea or
coffee.  I prepared this
recipe for Indian cooking challenge event which hosted by Srivalli. She had
chosen Sanna Pakoras recipe from Sindhi cuisine which are easy to cook and
crispy.
Preparation
Time: 10 Minutes
Cooking
Time: 15 Minutes
Servings:
2
Category:
Sindhi Cuisine, Snacks
Ingredients:
1 Cup Gram Flour
1 Onion, Chopped
Coriander Leaves, Chopped
1 Tsp. Cumin Seeds
1 Tsp. Dry Pomegranate Seeds
1 Tsp. Coriander Seeds
2 Green Chilies, Chopped
Salt to Taste
Red Chili Powder, to Taste
Pinch of Baking Soda
Enough Water, for Batter
Oil for Deep Frying
Green Coriander Chutney for serving
Tomato Ketchup for Serving
Instructions
Mix all ingredients except oil and make
thick batter and keep aside. Heat the enough oil for deep frying in wok on high
flame.
Add 1 tbsp hot oil in this batter and mix
well. Take a spoonful batter and pour into hot oil and repeat same with
remaining batter.
Fry them in small batches on medium flame
and take them out. Now cut each portion into half or small pieces and fry them
again till to dark golden and crisp. Serve hot with chutney and tea.
Tags
: sanna pakoras, Sanna fritters, pakoras recipes, fritter
recipes, snacks, starters, sindhi cuisines, sindhi recipes, onion recipes,
gramflour recipes, fried recipes, simplytadka, mansoon recipes, gram flour recipes,
Indian Cooking Challenge hosted by Srivalli
Enter your email address:
Delivered by FeedBurner