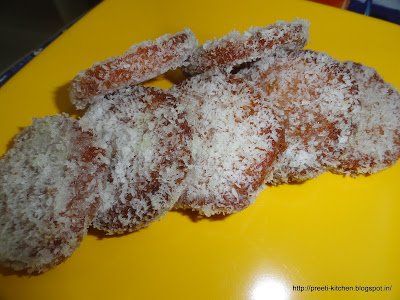 Last Updated on
Now again time of
celebration come as Blogging Marathon 14 for March month. This time I chose
Festival Food – Quick and simple Indian Mithai for a coming week.. Hope all my
friends and co- bloggers like this or upcoming recipes.
Today I post one of simple
and quick Indian Mithai version which totally one of fav. mithai of my family and friends. Name of this recipe is "Shahi Bread" just
like "Shahi Tukra"; it's a simple and quick version of this recipe. Under this
recipe, we fried or toss the bread in ghee and dip in sugar syrup and in last
coat with coconut powder.
Ingredients
5 pieces of bread
Sugar syrup
Coconut powder (desiccated)
Ghee or clarifying butter
Method
Cut the pieces of bread in
round shape with the help of small cup or glass. Now fried or shallow fry this
bread in ghee. And properly dip in sugar syrup. Now toss the sugar syrup coated
bread in coconut powder and serve with nuts.
Submit this recipe with following:
Blogging Marathon page for the other Blogging Marathoners doing BM#14