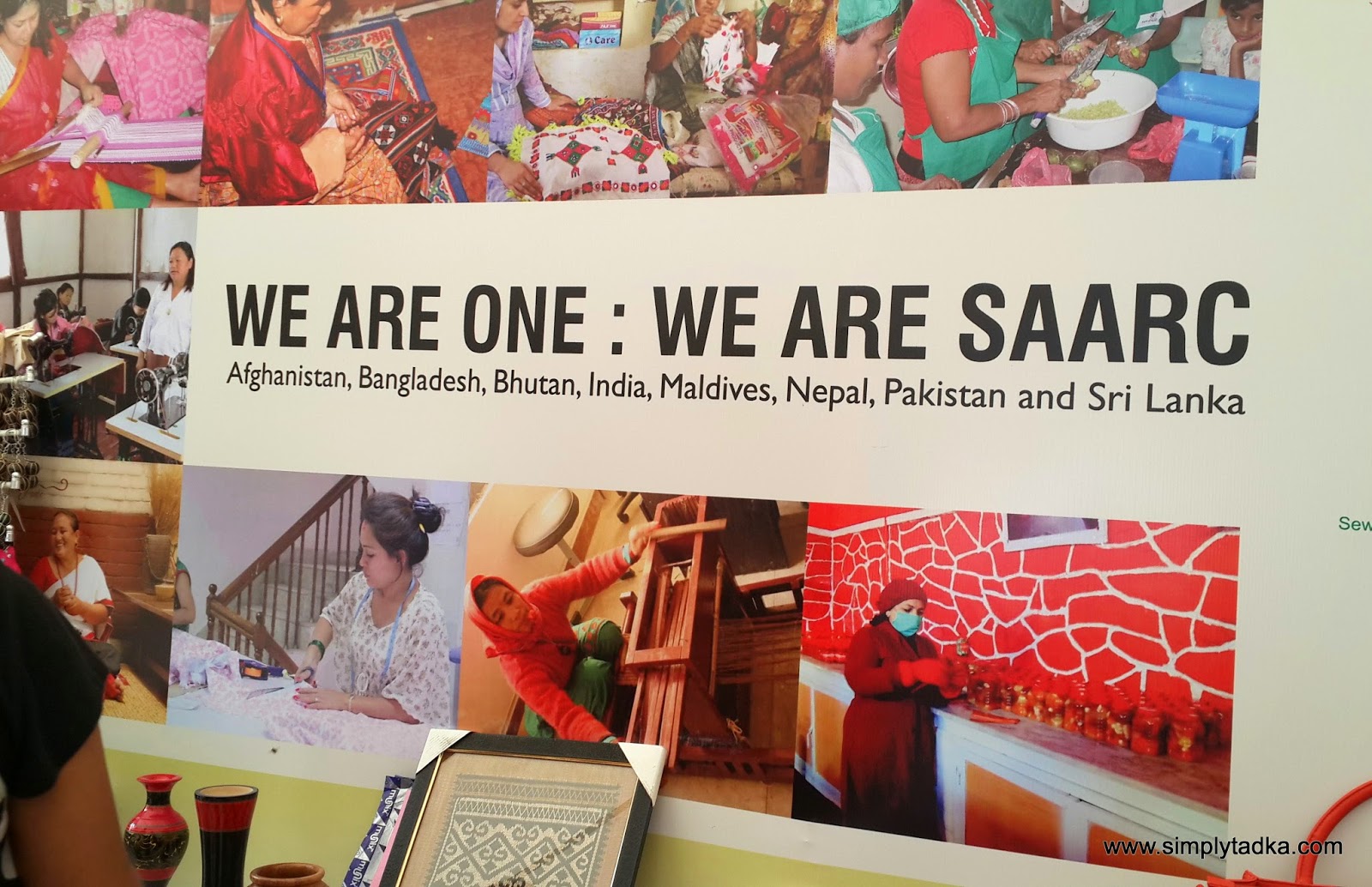 Last Updated on
Cross Cultural
collaborations was conducted four days South Asian festival as "SASSIAN Journey" on
28-31 March, 2015 at The Ashoka Hotel. This festival was hosted a lotus bazaar,
which was included a series of trans-disciplinary workshops, events,
performances, symposia, exhibitions and fests. The bazaar was offered space for
direct retail to a selected few artists, artisans and cultural enterprises from
all 9 South Asian countries attempting to connect the above to the global
market.
The objective
behind this event was increased employment and accelerated growth and also
enhances regional integration and cooperation amongst the 9 South Asian
countries- India, Pakistan, Maldives, Nepal, Bhutan, Bangladesh, Burma,
Sri-Lanka and Afghanistan.  It was represented some of India's and
South Asia's best design led interventions by leading NGO's, craft
practitioners, designers and artists.
South Asia is one
region where eating habits in most of the countries shares a lot of
commonality. To encourage and promote the cuisine from different South
Asian countries, Asian Heritage foundation and Self-Employed Women's
Association launched one movement which known as "SASIAN Journey". Lotus Bazaar
was also host South Asia's first food exhibition named "Sanjha Chulha" means
common kitchen, curated by Dr. Pushpesh Pant to promote the incredible variety
of local and regional cuisines of South Asia showcasing the diversity of
culinary art, where nine countries displayed mouth-watering and traditional
cuisines.
Senior executive
chef Mr. Rajan Loomba explained the whole concept about Sanjha Chulha and why
they planned to launch this South Asian Food festival, where all authentic
cuisines from nine South Asian Countries. Thanks to Chefs and Ms. Kinni's team through
which I got a chance to taste all the mouth-watering and authentic dishes from
South Asian Countries. They were served Murgh Rehana, Gulnar Biryani, Paneer
Peshwari, Tea, Afghani Naan, Pol Roti, Vegetarian Momos, Phirni as dessert and
some more Non-vegetarian Dishes from menu in our plate. All recipes were
awesome in taste and lip-smacking. Love to interact and chitchat with senior
chefs of Hotel Ashoka and other Co-bloggers on one table.
The Menu from
different countries are-
India:
Murgh Rehana with
Naan/Parantha
Gulnar Biryani
with Raita/Salad
Dum Gosht Biryani
with Raita/Salad
Stuffed Gulab
Jamun
Sri Lanka:
Kukul Mas Curry
(Chicken flavored with coconut milk, curry leaves, black pepper & Gigi
paste) with Kaha Bhaat  (Yellow Rice tempered with mustard seeds &
curry leaves )
Kukul Mas Curry
with Pol Roti(Coconut Flavoured grilled roti)
Pakistan:
Anda Keema Kaleji
Naan/Parantha
Soya Keema Kaleji
Naan/Parantha
Paneer Peshawari
with Naan/Parantha
Afghanistan:
Afghani Shorva
(Thin Mutton preparation) with Afgani Naan
Nepal / Bhutan:
Veg Thupka(Veg
Stew topped with noodles)
Veg Momos with
Dip(Chilli Garlic)
Chicken Momos with
Dip(Chilli Garlic)
Bangladeshi:
Sarson Maach
(Mustard Flavored fish curry)with steamed rice
Dessert Menu
Mishti Doi from
Bangladesh
Stuffed Gulab
Jamun from India
Tila Kufi from
Indian Subcontinent
Phirni from
Pakistan
In the Evening the
festival has nice combination of snacks, from 3pm to 7pm
Samosa with Mint
Chutney
Fried Vegetable
Wontons
Chicken Momos with
Dips
Tags: Hotel Ashoka, Sanjha Chulha Event, South Asia Food Festival at  Hotel Ashoka, Chef Loomba, Lotus Bazaar.
Enter your email address:
Delivered by FeedBurner