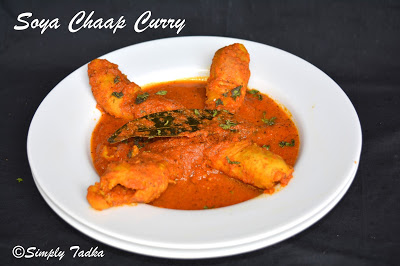 Last Updated on
Last day of second week of blogging marathon # 56,
I choose Soya chaap curry from Punjabi food. For this soya chaap curry, you have to cook
the fried chaps or roasted chaps in onion tomato gravy. Even you can add cream or full cream milk in
this gravy for richness and thick consistency gravy. If you also calorie conscious
just like me, so avoid cream in this recipe.
As my husband belongs to Punjabi region, he loves
soya chaap gravies, roasted tandoori chaap and more chaap recipes. So I preferred
to cook Soya chaap curry as a dinner meal with fermented roti or you can say
khamiri roti. For khamiri roti, just knead the dough with 1 tsp. of yeast and
keep aside for 1-2 hours for proofing.
List of All 6 Recipes under Indian State Theme:
Day 2: Dalma
Day 6: Soya Chaap Curry
Soya Chaap Gravy: Punjabi
Cuisine
Preparation
Time: 30 Minutes
Cooking
Time: 20 Minutes
Servings:
3
Category:
Main Course
Cuisine:
Punjabi Cuisine
Ingredients:
4-5 Soya Chaaps
3 Medium Sized Tomatoes
2 Onions, Finely Chopped
1 Tsp. Ginger, Finely Chopped
2 Green Chilies, Chopped
1 Tbsp. Kasuri Methi or Dry Fenugreek
Leaves, Roasted and Powder
1 Bay Leaf
2 Cloves
2 Cardamoms, Brown
Pinch of Asafoetida
Salt to Taste
1/2 Tsp. Red Chili Powder
1/2 Tsp. Turmeric Powder
1/2 Tsp. Cumin Seeds
1 Tsp. Coriander Powder
1/4 Tsp. Garam Masala
1/2 Tsp. Anardana
Green Coriander, Chopped
1-2 Tbsp. Oil
Oil for frying
Instructions:
Cut the soya chaap in 1-1/2 Inch chunks
and deep fried them till to golden and crisp in hot oil and take them out in a
plate.
Grind the tomatoes, ginger and chilies
together till to smooth paste.
Heat the oil in wok and add cumin
seeds, bay leaf, cloves, cardamom and asafetida. When they start splutter, add
chopped onion and sauté till to translucent.
Add tomato paste and fenugreek powder
and spices. And sauté the masala until oil starts separating from it. When oil
starts separating from the masala, add water and mix well.
Add fried chaps and mix well. Cover the
curry and cook for 5-10 minutes on low flames.
Garnish with cream and coriander
leaves.
Notes: If you like royal or rich taste, then
add 1/4 cup of cream in gravy which enhance the taste.
Tags: how to cook soya chaap gravy, maincourse, lunch dinner menus,
simplytadka, blogging marathon, soya chaap recipe, Punjabi cuisine, gravies,
curries, vegetarian recipe
Check out the Blogging Marathon page for the other Blogging Marathoners doing BM# 56