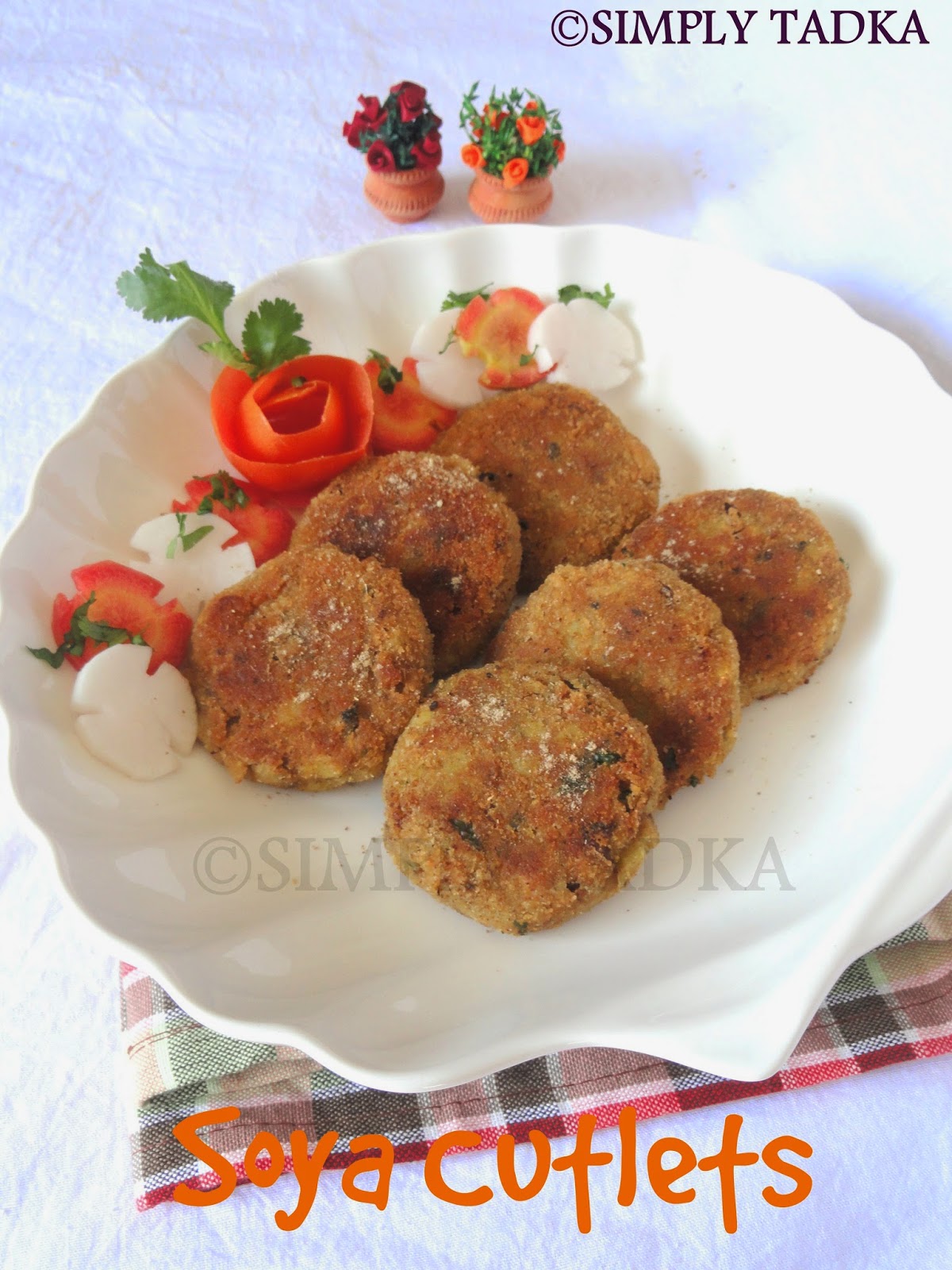 Last Updated on
Soya chunk cutlets are rich in proteins and
very healthy starters which are good option for ongoing monsoon season. For this
recipe, you have to just combine the soya chunks with mashed potatoes, onion
and spices to form patties. It's a prefect snack for parties and picnics. You can
replace the potatoes with cottage cheese or paneer.
Preparation time:
20 Minutes
Cooking
Time: 15 Minutes
Servings: 4
Category:
Snacks
Ingredients:
1 Cup Soya Chunks, Cooked
2 Medium Sized Potatoes, Boiled and Mashed
1 Large Onion, Chopped
1 Tbsp. Green Coriander Leaves
2 Green Chili, Finely Chopped
1 Tsp. Ginger Paste
2 Tbsp. Cornflour
1 Cup Bread Crumbs
Salt to Taste
Red Chili Powder to Taste
1 Tsp. Cumin Seeds
1 Tsp. Coriander Powder
1 Tsp. Lemon Juice
Oil for Shallow Frying
Instructions:
Boil the soya
chunks in a sauce pan with enough water for 15 minutes till to double size. Squeeze
out the excess water with the help of hands and keep aside.
Add these chunks in
mixer and grind them till to coarse crumbs.
Heat the 1 tsp. oil
in separate pan and add cumin seeds.
When they start splutter, add chopped
green chilies, ginger paste and sauté for 1 minute.
Add chopped onion and add coriander
powder, chili powder and mix well.
Add the onion
masala and mashed potatoes with coarse chunks.
Add salt, cornflour, lemon juice
and green coriander leaves and mix well.
Divide the mixture into equal portions
and form into round pattices.
Toss the
pattices one by one into bread crumbs and keep aside.
Heat the enough
oil in non-stick pan and place the pattices and shallow fry the each pattice on
both sides till to crisp and golden.
Serve hot soya pattice or cutlets with
ketchup or green coriander dip.
Notes:
You can add some season veggies also like
green peas, beetroot, and capsicum.
If you are calorie conscious, you can replace
potatoes with paneer or cottage cheese.
Tags:
how to make soya cutlets at home, soya cutlet recipe, soya pattices, soya
nuggets, soya tikka, snack recipes, easy starters, monsoon special recipe, kids
favourite recipes, how to prepare soya pattices, soya chunks cutlets, Nutella soya
chunks recipes.
Enter your email address:
Delivered by FeedBurner