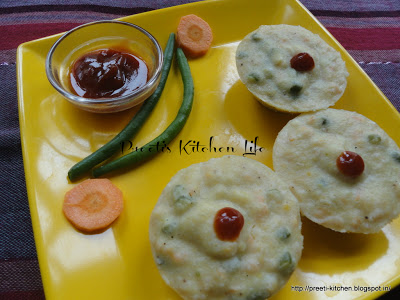 Last Updated on
A new and fresh coming Blogging Marathon#20 with some fresh delicacies……
This time I choose "Low Calorie Breakfast" as a theme in 1st group
of BM hosted by Srivalli.
Today's my recipe is "Spicy Steamed Cup", in this recipe we made a
smooth paste with rice and pulses add some veggies, chillies and steam it…. It's
a great option for breakfast from the point of view of healthy meal and low
calorie….  You can change the veggies
according to your taste and preferences and accomplish with fresh juice and serve
with tomato sauce.
Ingredients:
1/2 Cup Rice
2/4 Cup Dhuli Urad Dal/ Skinless Split Black Gram
1/4 Cup Chana Dal/ Bengal Gram
1/4 Cup Boiled and Chopped Beans
2/4 Cup Grated Carrot
1/4 Cup Curd
1 Green Chili, Chopped
Salt to taste
A Pinch of Baking Soda
1 Tbsp. Oil
Direction:
Wash and soak the rice and both lentils (Chana dal and urad dal) in
water for 5-6 hours then drain the water. Add chopped green chilli and salt in
grinder with rice and lentils; grind it together for smooth paste.
Now combine oil, curd, beans, carrots and baking soda and mix it
well.
Grease the muffin mould with few drops of oil and add 1 tbsp. paste
in each mould. Place the mould in steamer for 15-20 minutes on medium flame.