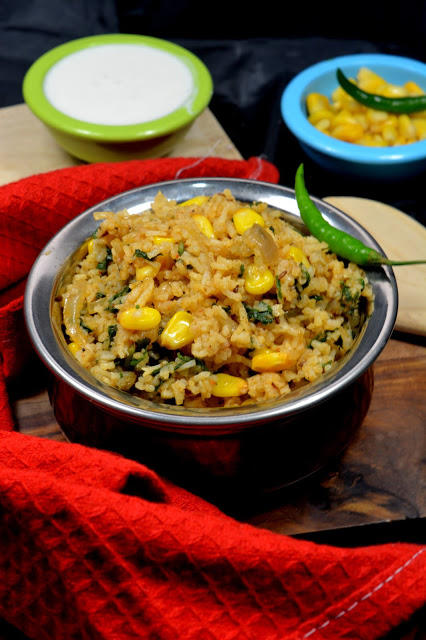 Last Updated on
Spinach corn pulao
is easy and tasty recipe which prepared with two main ingredients yellow corn
and green spinach combined with cooked rice. Its very protein and iron rich
recipe which you can packed in tiffin for kids as well as adults.
To prepare this
dish, you have to do some preparation like thaw the frozen corns, chopping and
blanching the spinach, boil the rice, chopping onion and more.
You can serve this
recipe with any kind of raita, personally i prefer boondi ka raita and aloo ki
sabzi. Spinach gives the earthy taste which more enhance by sweetness of corn.
Spinach and Corn Pulao
Preparation Time: 10 Minutes
Cooking Time: 15 Minutes
Servings: 2
Category: Rice
Cuisine: Indian
Cooking Method: Stir Fry
Ingredients
2 Cups Basmati Rice,
Cooked
1 Cup Spinach,
Blanched and Chopped
1/2 Cup Sweet
corn, Thaw
1/4 Cup Onion,
Sliced
2 Green Chilies,
Finely Chopped
1 Tbsp. Ginger,
Finley Chopped
Salt to Taste
Red Chili Powder to
Taste
1 Tsp. Coriander
Powder
1/2 Tsp. Garam
Masala
1 Tsp. Cumin Seeds
1/4 Tsp.
Asafoetida
2 Tbsps. Oil or
Ghee
Fresh Cilantro,
Chopped
Instructions
Chop and blanch
the spinach leaves.
Heat the oil in a
non-stick wok. Add cumin seeds and Asafoetida, when they starts splutter.
Add onion, green
chilies, ginger and stir till to translucent.
Add chopped
spinach, corn, spices and give quick stir on medium flame.
Add cooked rice
and salt and stir few minutes.
Cover and cook it
for 5 minutes more.
Remove from the
heat and garnish with coriander leaves.
Notes: Squeeze little lemon juice if you
want before serving.
Tags: How to cook spinach corn pulao,
pulao recipes, rice recipes, spinach recipes, corn, onion, main course,
lunchbox recipes, simplytadka, foodblogging, healthy meal, spinach corn rice,
lunch menu, dinner menu, tiffin recipes, vegan, stir fry recipes, leftover rice
recipes.
Did you make this recipe?
If yes, do let us
know how it turned out in the comments below. Do share a picture with us
simplytadka@gmail.com  or share on Instagram with hashtag #simplytadkarecipes
and tag us @simplytadka 
Check out the Blogging Marathon page for the other Blogging Marathoners doing BM# 80