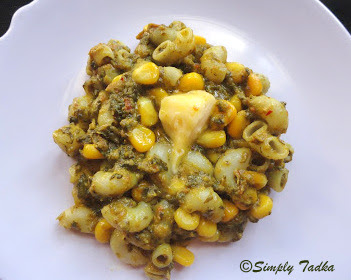 Last Updated on
Today I post Spinach Corn Macaroni; here I
get the idea from Indian Recipe "paalak paneer" which is very famous in Indian
Families. Hope my friends like this creation and also trying at home. For more
yummy taste and looking good, I add sweet corn also.
In this recipe, I used basic method of making
paalak-paneer which used at our home and add gram flour paste with curd and
spices which we call aalan.
Macaroni is a variety of moderately
extended, dry pasta made with durum wheat, and is normally
cut in short, hollow shapes; however, the term refers not to the shape of the
pasta, but to the kind of dough from which the noodle is made. Although home
machines exist that can make macaroni shapes, macaroni is usually made
commercially by large-scale extrusion.
Preparation
Time: 15 Minutes
Cooking
Time: 20 Minutes
Servings: 2
Category:
Snacks
Ingredients
1 Cup Spinach (paalak)
1/2 Cup Del Monte Sweet corn
1/2 Cup Del Monte Macaroni (pasta, olive oil,
salt)
1/2 Cup Onion-Tomato Paste
1 Tbsp. Fresh Cream
2 Tsp. Clarified Butter
1 Tsp. Gram Flour
2 Tsp. Curd
Salt to taste
1/2 Tsp. Coriander Powder
A pinch of Turmeric Powder
1/2 Tsp. Red chilli Powder
A Pinch of Garam Masala
Instructions:
For Macaroni
Heat the water in the pan on high flame, when
water starts boiling add Del Monte macaroni, oil and salt. Check pasta
continuously. It's become soft and tender within 10 minutes. Press and check
the pasta's softness means it's become well-cooked not over-cook or under-cook.
Drain the water from the pasta and wash it with cold water and toss with little
olive oil.
For
Spinach Puree
Take a fresh and clean spinach leaves and
blanched it for 10 minutes with water and now removes from the flame and drain
the excess water. Now blend the spinach for making fine puree.
 For
Gram Flour and Curd Paste (Aalan)
In a bowl, combine curd and gram flour and
all spices except garam masala. Mix well like a smooth paste.
For Spinach
Gravy
Heat the Non-stick pan onto medium flame, add
clarify butter and onion- tomato paste. Sauté for 5 minutes and add spinach
puree. Now add gram flour and curd paste and sauté for 5-10 minutes. Now add 1
tbsp. cream into spinach gravy and add boiled sweet corn, garam masala and
macaroni.
Serve hot and tasty spinach corn macaroni
with butter.
Tags: Delmonte pasta, pasta recipes, italian recipes, spinach recipes, corn recipes, snacks, appetizers, macaroni recipes, healthy pasta recipes, del monte India's blog.