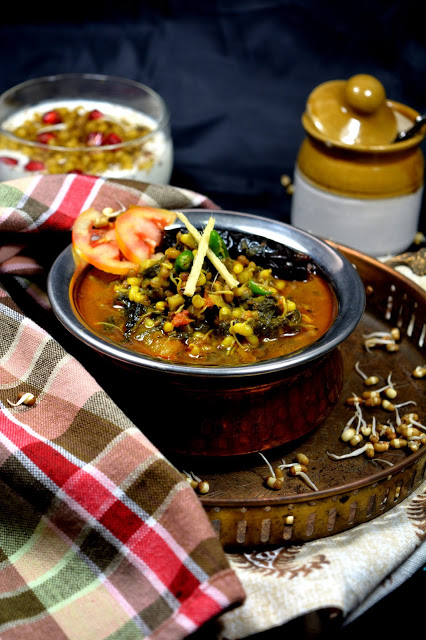 Last Updated on

Matki or Moth bean is a small brown colored bean which is very common in India.

Vigna aconitifolia is a drought-resistant legume, commonly grown in arid and
semi-arid regions of India. It is commonly called mat bean, moth bean, matki,
Turkish gram or dew bean. The pods, sprouts and protein rich seeds of this crop
are commonly consumed in India.
To get sprouted Matki, first rinse and soak the matki in water for overnight.
Drain whole water and tie into moist clothe for 1 day or 10 hrs. at least.
After few hours sprouts are ready to eat or further use.

You can keep the sprouts in freeze to consume further and shelf life for two
days. You can prepare many dishes from snacks to salad. Check here more recipes
related to moth.

This time i prepared moth and palak curry. For this recipe, we have to cook sprouts,
Spinach and tomatoes together in pressure cooker. It's very tasty and healthy
recipe and easy to cook. You can serve this dish with rice or chapatti as main
course.
Sprouted Moth and Palak Curry | Protein Rich Sprouts
Recipe
Preparation Time: 15 Minutes
Cooking Time: 20 Minutes
Servings: 4
Category: Dal & Kadhi
Cuisine: Indian
Cooking Method: Pressure Cooker
Ingredients
2 Cups Moth, Sprouts
3 Cups Spinach, Chopped
1 1/2 Cup Tomatoes,
Chopped
3 Green Chilies, Finely
Chopped
2 Tbsps. Ginger, Finely
Chopped
3 Dried Red Chilies
Few Curry Leaves
1 Tsp. Mustard Seeds
¼ Tsp Asafoetida
2 Tbsps. Oil
Salt to Taste
½ Tsp. Garam Masala
1 Tsp. Coriander Powder
1/2 Tsp Turmeric Powder
Red Chili Powder to
Taste
Instructions
Heat the ghee or oil in
pressure cooker.
Add mustard seeds,
Asafoetida, curry leaves, red chilies.
When aroma release, add
ginger and chilies.
Add chopped tomatoes and
spices. Saute for 2 minutes.
Add sprouts and palak
with 1 cup water.
Cover with lid and cook
till to 6-7 whistles or you can cook on low flame for 15 minutes.
Garnish with coriander
and squeeze lemon before serving.
Tags: how
to cook moth palak curry, moth ki sabzi, moth and spinach ki dal, protein rich
recipes, main course, main dish, dal and curry, indian curry, vegetarian, vegan,
no onion and no garlic recipe, healthy recipes, pressure cooker recipes, sprouts
recipes, food blogging, simplytadka, blogging marathon, moth bean recipes,
palak recipes, Spinach recipes, fibre recipes, low calorie recipe, everyday
meals, dinner menu, lunch menu, one pot recipes, iron rich recipes.
Did you make this recipe?
If yes, do let us know
how it turned out in the comments below.
Do share a picture with
us simplytadka@gmail.com or share on Instagram with hashtag #simplytadkarecipes
and tag us @simplytadka
Check out the Blogging Marathon page for the other Blogging Marathoners doing BM# 80