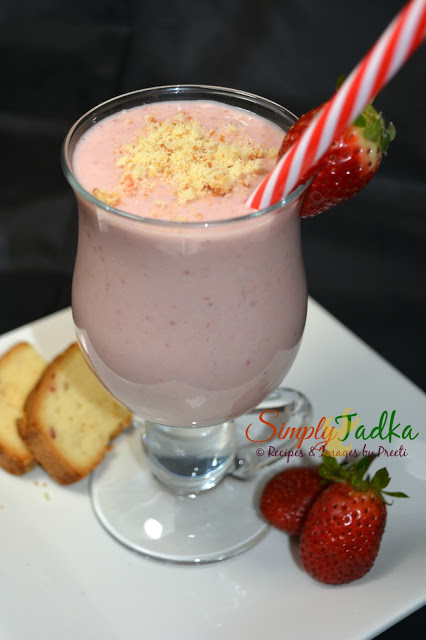 Last Updated on
Strawberry Vanilla Cake smoothie is an easy
and simple, three ingredients smoothie recipe that's healthy as well tasty like
a dessert. I used fresh and seasonal strawberries, vanilla pound cake and milk
to prepare this smoothie.
This stunning pink color smoothie looks so
pretty and tasty. I choose this smoothie recipe for blogging marathon#72 under
the theme of smoothie. It's a complete delicious dessert treat.
Preparation
Time: 10 Minutes
Cooking Time:
0 Minutes
Servings:
2
Category:
Beverages
Cuisine:
Healthy
Ingredients
2 Cups Strawberries, chopped
1 Cup Crumbled Vanilla Cake
1 Cup Milk
1 Scoop of Vanilla Icecream
Sugar to Taste
Few Ice cubes
Crumbled Cake for Garnishing
Instructions

Blend all ingredients together in mixer till
to smooth texture and serve in individual glass with crumbled cake and chopped
strawberries.
Tags: how to make strawberry cake smoothie,
smoothie recipe, summer cooler, beverages recipes, simply tadka, blogging
marathon, strawberry recipes, cake recipes, healthy recipes, quick and simple
recipes, blender recipes.
Check out the Blogging Marathon page for the other Blogging Marathoners doing this BM#72
Enter your email address:
Delivered by FeedBurner