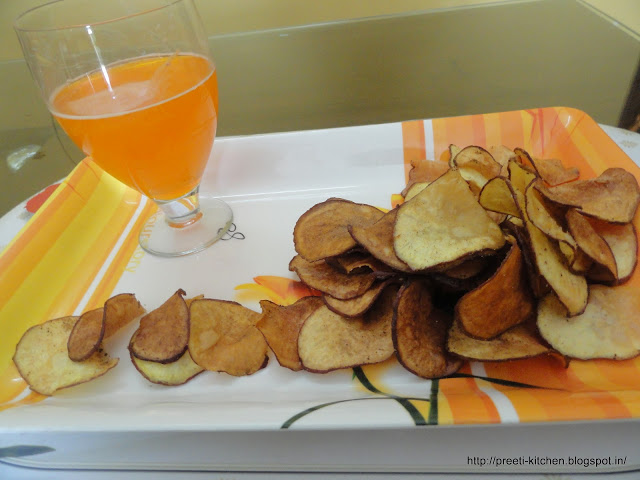 Last Updated on
Today I post
"Sweet Potatoes Chips" under chips theme. In India, sweet potatoes called by
the name of shakarkandi in Hindi. Sweet potatoes are mostly using for chaat.
In this
recipe, mostly I'm using one way to cook the chips i.e. frying method but you
can use other methods also like bake in oven or microwave. You can slice the
chip's main ingredients in different shape like round, oval, long, ribbon and
fries whatever you like. Mostly I'm trying more simple and easy method which
suitable for everyone with less equipment and ingredients.
Today 20 Feb.,
here we celebrate the occasion of Mahashivratri (day of Lord Shivaji and Shakti). So we
can also use or eat this chips in vrat or fast as a satvik bhojan also.
Besides simple starches,
sweet potatoes are rich in complex carbohydrates, dietary fiber, beta carotene
(vitamin A equivalent), vitamin C, and vitamin B6. 
2 sweet potatoes
Oil for deep frying
Salt and black pepper powder
Method
Wash the sweet potatoes and using the chip slicer or sharp knife, slice the sweet
potatoes into thin and round shape. Heat the oil in deep and heavy bottom
vessel. Fry the chips in small amount until crispy and golden, near about 5-10
minutes. Remove the chips on kitchen towel and sprinkle salt and pepper. Serve
with tea and any drink. You can keep the chips in air tight container for few
days.
Submit this recipe with following events as under:
Blogging Marathon page for the other Blogging Marathoners doing BM#13