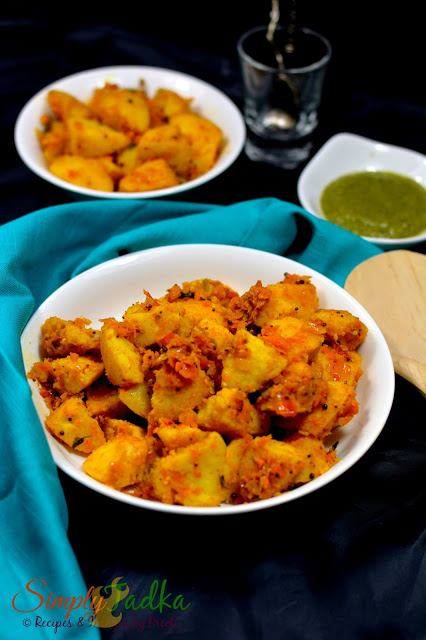 Last Updated on
Idli Tadka is one of easy and tasty snack for kid's
lunchboxes or even when they come back from school and feel so much hungry.
Even it's good for older ones as well as toddlers as a anytime snack. It takes less
effort to prepare and you can change the flavor or level of spices according to
your kid's preferences. You can use any type of leftover idlis for this recipe
like sooji, rice, ragi, oats or anymore.
Preparation Time: 15
Minutes
Cooking Time: 15 Minutes
Servings: 4
Category: Snacks
Cuisine: South Indian
Cooking Method: Stir Fry
Ingredients
15 Rava Idlis
2 Small Onions, Peeled and Finely Chopped
3 Green Chilies, Finely Chopped
2 Small Carrots, Peeled and Finely Chopped
2 Tbsps. Ginger, Peeled and Finely Chopped
2 Medium Sized Tomatoes Puree
Green Coriander Leaves, Finely Chopped
1 Tbsp. Sambhar Masala
1/2 Tsp. Red Chili Powder
Salt to Taste
1/2 Tsp. Turmeric Powder
1 Tbsp. Lemon Juice
For Tempering
2 Tbsp. Oil
Few Curry Leaves
2 Dried Red Chilies
1 Tsp. Mustard Seeds
1/4 Tsp. Asafoetida
Instructions
Heat the oil in a nonstick pan, add tempering ingredients and
stir it.
When they starts splutter, add ginger, green chilies, onion
and carrots and stir it continuously for 5 minutes.
Add tomato puree and again cook it till to water absorbs.
Add spices and mix it gently. Add diced idlis and lemon
juice. Cover and cook it for 5minutes.
Garnish with green coriander leaves. Serve with
chutney.

Notes: You can any kind of idli or even bread slices for
same recipe.
Tags: how to make tadka idli, idli recipes, rava idli recipes,
simplytadka, south indian cuisine, tadka recipes, snacks , lunchbox recipes,
tiffin recipes, kids recipes, leftover recipes, sooji recipes, instant recipes,
blogging marathon, kids delight recipes, indian recipes, sambhar masala
recipes, healthy recipes.
Did you make this recipe?
If yes,
do let us know how it turned out in the comments below.
Do
share a picture with us
simplytadka@gmail.com
or
share on instagram with hashtag #simplytadkarecipes and tag us @simplytadka
Check out the Blogging Marathon page for the other Blogging Marathoners doing this BM#78