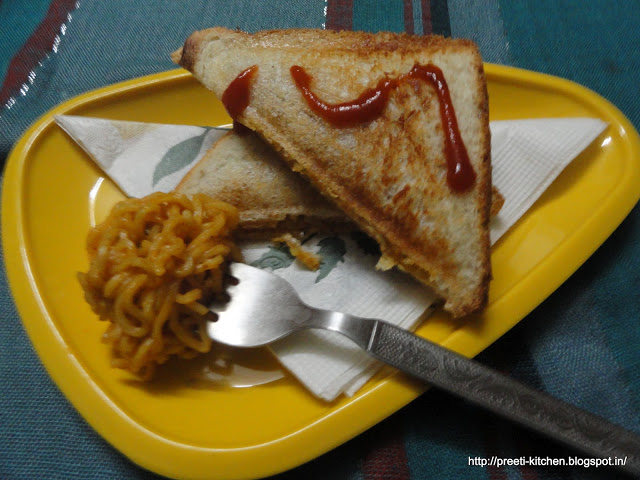 Last Updated on
Today I post "Tangy Noodle
Sandwich"…..under this recipe we cook first Maggie with ketchup for tangy taste….then
add with bread and hot  and yummy toast
is ready for  your tummy…really  its completely delicious….hope everyone like it.
You can do same with leftover noodles and Maggie….for more different flavors…add favourite sauce or spices…
Ingredients
1 small packet of Maggie
1 tbsp. tomato ketchup
4 slice bread
Butter
Equipment- toaster
Method
First we have to just cut
the packet and replace the masala and noodles into plate. Heat the pan and add
1 cup water, when start boiling. Add masala and tomato ketchup, mix well. Add noodles
and stir continuously. Remove from the flame when it cooks well.
Take one bread slice and
spread noodles. Now cover it with another bread slice. Spread little butter
both side of sandwich. Place the sandwich in toaster when its look crisp…serves
hot with tomato ketchup.
Submit this recipe with following…
Blogging Marathon page for the other Blogging Marathoners doing BM#14