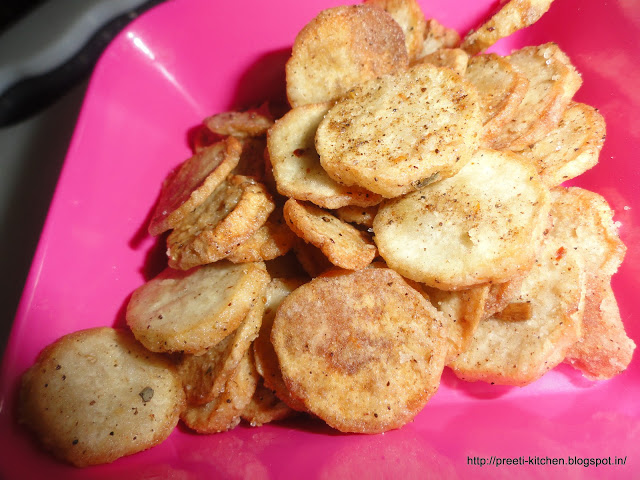 Last Updated on
Today is 6th day of Blogging Marathon chips theme……my
chips name is "TARO GOLDEN COINS" and in simply word you can say Taro Root
Chips/ Arbi chips. In India, Taro Root know by the name of Eddoe, Taro and Arbi
or Arvi in Hindi..
Taro is a root vegetable
that is eaten in many different cultures around the world and has a rich
history, with many possible recipes. The leaves of the taro plant are also used
as a vegetable. Taro root is easily digestible and the leaves are a good source
of vitamins A and C. Taro is nutritious, and is an excellent source of
potassium, which is an essential mineral for many bodily functions. Taro also
contains some calcium, vitamin C, vitamin E and B vitamins, as well as
magnesium, manganese and copper.
How to cook taro root chips/ coins read further…
Ingredients
5 med. Sized taro
root (arbi)
1 tbsp. plain flour
(maida)
Salt to taste
Black pepper
Oregano
Chaat masala
Oil for deep frying
Method
Wash and peel the
taro root and chop with the help of fine and sharp knife in round shape and again wash
this round shaped chips in water. Remove the
excess water with the help of kitchen towel.
Add flour, salt,
pepper powder and oregano in bowl and coat the chips in flour mixture.
Heat the vegetable
oil in the deep vessel or pan and when oil is hot enough, fry the chips until
more crispy and color become golden, near about 15 minutes.
Remove the chips on
the kitchen towel and absorb excess oil. Sprinkle little salt, chaat masala.
Serve these taro
golden coins with hot tea….Enjoy Happy eve snack…
submit this recipe with following events:
Blogging Marathon page for the other Blogging Marathoners doing BM#13