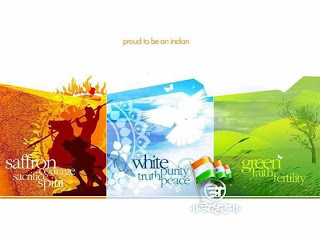 Last Updated on
Happy Independence Day to All
Our Life is full of colors,
I hope this 15th August will add more colors to your
life….
Happy Independence Day
For this August month's ICC- Indian Cooking Challenge, Srivalli chose Uluthan
Kali, an authentic recipe of Tamil
Nadu shared by Padma. I never heard and tried this recipe. Srivalli suggested Padma post
for reference. Through this link, I got a general idea about this recipe.
Thanks for sharing this wonderful recipe with us. But for more detail I go with Vimithaa recipes also.
In this recipe, We first make Ulundhu Podi through dry roast Urad dal and rice together and
gind it for fine flour with green cardamom powder and then we prepare Ulundhu Kali or Urad Dal Kali with ghee and jaggery syrup,  Because
Urad dal is so healthy, this sweet is made and given to young girls when they
attain puberty. In Andhra we have the tradition of making Urad dal ladoos and
feed the girls for 15 days to give good health and strength to bones. Ulundhu
is rich in calcium and jaggery is rich iron and gingelly oil gives good strength
to spinal cord. This halwa somewhat tastes like that. Serve it warm and good
for in rainy season and in winter season for health and yumm to in taste also. The halwa when it was delivered looked very much
like the moong dal halwa. A big thanks to
Vimitha
,
Padma
, And also My motivators
Srivalli
and
Vaishali 
Ingredients
For
Ulundhu Podi/ Flour mixture
1/3 Cup Urad Dal/ Ulundu
/ Dehusked Black Gram
1/4
Cup Rice
2
Green Cardamoms
For
Ulundhu Kali/ Urad Halwa
1/2
Cup Podi/ Flour mixture
2
Cup Water (depend on consistency)
1
tbsp. Jaggery (melted in water)
2 tbsp. Sugar (sweet depend on taste)
2
tbsp. Desi Ghee/ Clarifying Butter
Nuts
for garnishing
Directions
For
Ulundhu Podi/ Flour Mixture
Dry roast rice and dal lightly and grind in to a
thin rava consistency with cardamom (like puttu powder consistency) and set aside
to cool.
Take jaggery sprinkle little water and dissolve
remove from heat strain and set aside.
Now heat the pan and add jaggery syrup in it. Add water
and when bring it to boil. Add flour slowly slowly and stir continuously in
thick bottom pan. Add sugar and ghee in the pan and stir continuously. Cook
till thicken like halwa and remove from the fire and serve hot with garnish
little nuts.
Submit this recipe with following events: