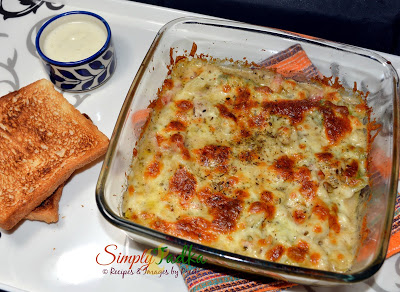 Last Updated on
Baked Vegetable
Au Gratin is one of the French recipe, which made by mixture of some seasonal
vegetables, cooked in white sauce and coated with cheese and butter and served
with toasted bread.
To add
extra crunchy factor in this dish, sprinkle bread crumbs on the top of dish at
the time of baking. If you want healthy version, you can use roasted oats
instead of bread crumbs. You can
choose crisp, juicy and seasonal vegetables like carrots, mushrooms, broccoli,
beans, baby corn and more.
Gratin
is a French word in which ingredients are topped with a browned crust, often
using bread crumbs, eggs, butter, and cheese.
How to cook Vegetable Au
Gratin
Preparation Time: 20 Minutes
Cooking Time: 10 Minutes
Servings: 3
Category: Main Course
Cuisine: French
Ingredients
2 Cups
Mixed Vegetables (Broccoli, Cauliflower, Carrots, Beans), Chopped and Boiled
1 1/2
Cup White Sauce
1 Tbsp.
Garlic Butter
Salt to
Taste
Black Pepper
to Taste
1/2 Tsp.
Dried Oregano
1/2
Tsp. Dried Parsley
1 Tsp. Red
Chili Flakes
For Topping
1 Cup
Mozzarella Cheese, Grated
1 Tbsp.
Butter
For White Sauce
2 Tbsp.
Olive Oil
2 Tbsp.
All-Purpose Flour
1 ½ Cup
Milk
1/4 Cup
Processed Cheese, Grated
Salt to
Taste
Black Pepper
Powder to Taste
Directions
Heat
the butterin a nonstick pan, add mixed boiled vegetables and sauté for 2
minutes on a medium flame.
Add
white sauce, salt, pepper and mixed herbs, mix well and cook on medium
flame  for 5 minutes.
Transfer
the mixture into greased baking pan and sprinkle grated cheese and little
amount of butter on the top.
Bake it
for 15 or 20 minutes at 200 degree Celsius or till to golden color in preheated
oven. 
Serve
immediately with toasted bread.
For White Sauce
Heat
the olive oil in pan and add flour, sauté for 2 minutes.
Add
milk slowly and stirring continuously so that lumps do not form.
Add
cheese, salt and pepper and mix well. Keep aside.
Note: you can use crumbled oats or
bread crumbs for crunchy taste.
Tags:
white sauce, main course, Italian recipes, vegetables, cheese, baking recipes,
simply tadka, baked dishes, oven, western recipes, milk, vegetable au gratin
recipes, kids recipes, party recipe. 
Enter your email address:
Delivered by FeedBurner