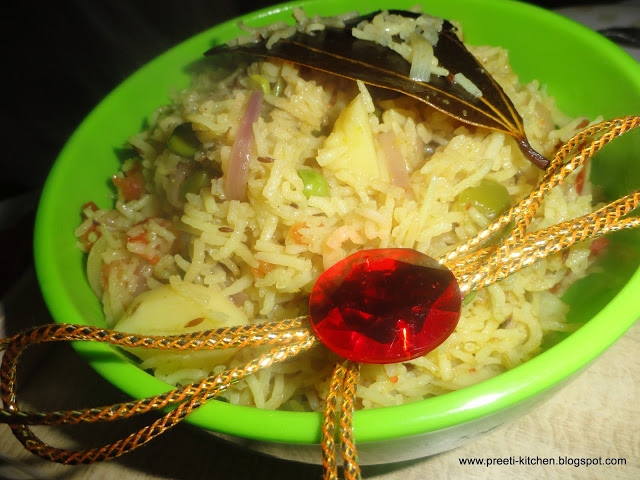 Last Updated on
Vegetable pulao is an all-time favourite of my family. It's
a north Indian vegetarian rice dish. Vegetable pulao is a complete meal with
lots of vegetable. Here I'm posting a simple method to make a really tasty pulao;
I cook this rice in thick and heavy bottomed vessel with lots of mixed veggies.
You can upgrade this vegetable pulao with your likes or suitability and non-vegetarian
can add meat stuff whatever you like. Serve it with any veg side dish like gravy
or simply enjoy this pulao with raita, papad, chutney or pickle…
Under this recipes or in my mostly rice recipe, I'm always
use Pure Basmati Rice in good quality. Basmati rice is long grain "Indian rice"
with a highly individual aroma and taste, a good choice for all types of
cooking spl in pulao, biryani, steam rice or plain rice. For more detail
Ingredients
2 cup Basmati rice
1 medium sized onion (long strips)
1 carrot (peels and chopped)
1 tomato medium sized (chopped)
1 potato medium sized (peel and chopped)
1 tbsp. cottage cheese (chopped)
2 tbsp. peas
1 medium green capsicum (thin and long strips)
2 green chillies (fine chopped)
1 tsp. ginger (paste)
2 bay leaves
Salt to taste
½ tsp. turmeric powder
½ tsp. amchoor (raw mango powder)
½ tsp. garam masala
½ tsp. red chillies powder
1 tsp. Coriander
powder
1 tsp. cumin seeds
4 cup water
1 tbsp. fresh green coriander (chopped)
1 tbsp. ghee
Method
Wash and soak the rice in 4 cup water for 15 minutes.
Heat the ghee in deep and thick bottomed pan; add cumin
seeds and bay leaf. Fry for a minute.
Add onion, green chillies and ginger, sauté for 5 minutes
until onion gets little transparent.
Add all the vegetable (peas, carrot, potato, capsicum)
and sauté for 10 min.
Add tomatoes and paneer (cottage cheese) and cook for 5
minutes.
Add all the spices (turmeric powder, raw mango powder,
garam masala, red chillies powder, salt, coriander powder) and stir well.
Add 4 cup water (double ratio of rice) and bring to a
boil. Now add the rice (drain the water) after a one boil, reduce the flame.
Cover the pan with lid and cook until the rice is done and water gets
evaporated.
Remove from the heat and garnish with green coriander.
Serve with raita or chutney.
submit this recipe with following events