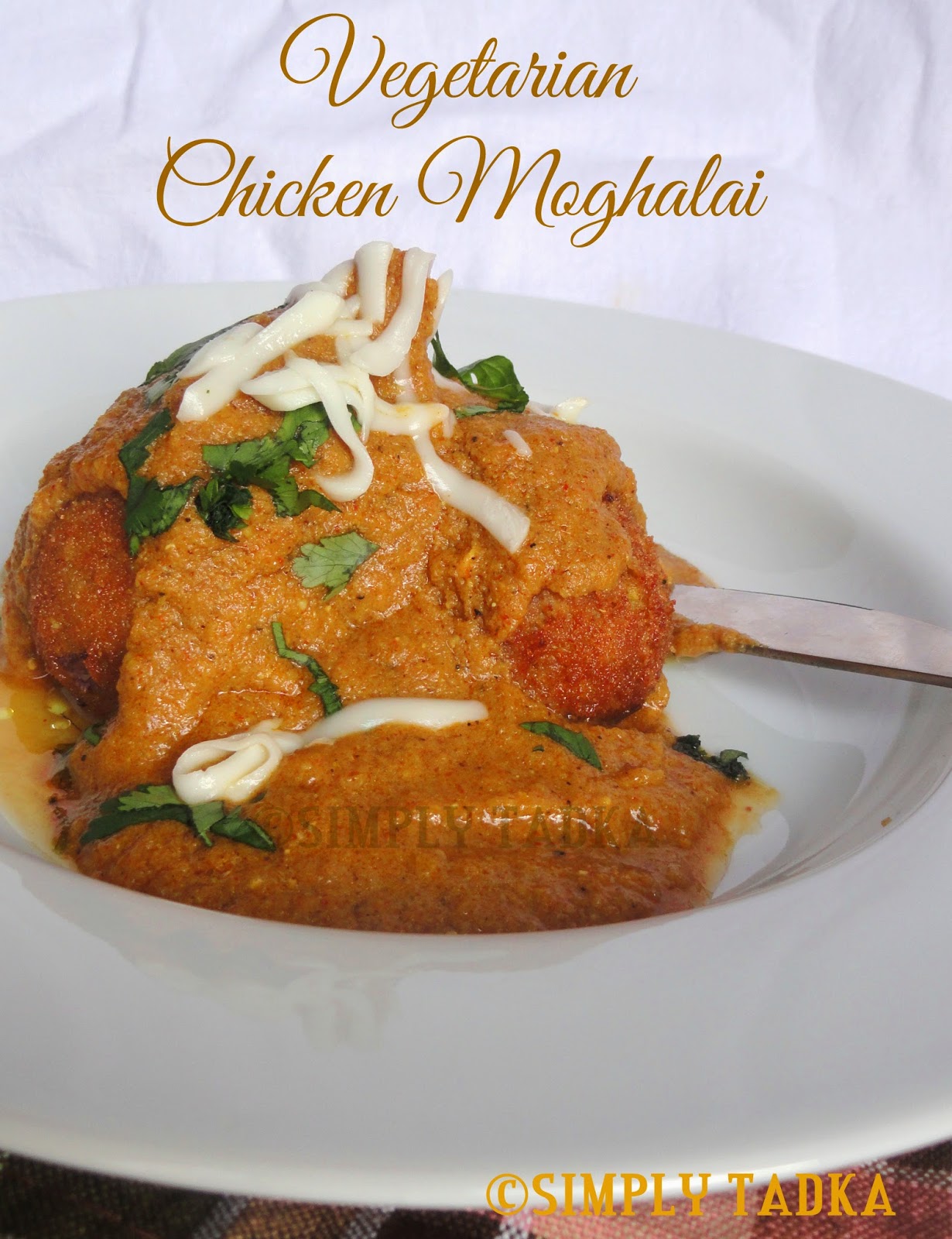 Last Updated on
​
Simply Tadka is vegetarian food blog so every
time, tried to cook some non-vegetarian stuff into vegetarian form. To make
non-veg dish, I choose some natural and vegetarian substitutes for meat stuff.
You can use soya chunks, paneer and potatoes instead of meats.
Few days before I got a chance to participant
into mother's recipe contest where we have to share some innovative recipes
using mother's recipes instant spice mix. For this contest, I like to prepare chicken
lollipop into vegetarian form and cook into chicken moghalai gravy. I used soya
chunks, potato and paneer for vegetarian lollipop. Here paneer and soya balls
easily replicate the chicken and meat balls and gives the nice texture of
chicken.
Preparation Time: 25 Minutes
Cooking Time: 20 Minutes
Servings: 7 pieces
Category: Punjabi Cuisine
Ingredients:
3/4
Cup Nutella Soya Mini Chunks, Boiled and Squeezed
1/2
Cup Paneer, Grated
1/2
Cup Mash Potato, Boiled and Peeled
1/4
Cup Onion, Finely Chopped
1/4
Cup Cheese
1
Green Chili, Finely Chopped
1
Tsp. Ginger, Chopped
2
Tbsp Green Coriander, Chopped
Salt
To Taste
Red
Chili Powder to Taste
1
Tbsp. Coriander Powder
1
Tsp. Turmeric Powder
1/2
Tsp. Raw Mango Powder
1
Tbsp Oil
1/4
Cup Bread Crumbs
2
Tbsp Cornflour
Oil
for Deep Frying
1/3
Cup Whipped Curd
Green
Coriander, Chopped for garnishing
Instructions:
Peel
and mash the potato and keep aside. Boil the soya chunks into water for 10
minutes and squeeze the whole water and grind it till to corasly form. Cut the
cheese into tiny 7-8 pieces and keep aside.
In
large bowl, add grated paneer, soya chunks, mashed potato, chopped onion, green
chili, ginger and coriander. Add spices, oil and bread crumbs. Mix it as firm
dough.
Divide
the mixture into equal 7-8 portions. Keep one cheese piece in between portion
and make a round form as smooth. Now pierce the potato finger as stick. Slowly
using your hands, give the shape of lollipop.
Mix
the cornflour and pinch of salt with little water. Dip the each portion into
cornflour mixture and roll into bread crumbs and keep in fridge for 15 minutes
to set.
Heat
the sufficient oil into wok at medium flame. When oil is hot enough, fry the
each lollipop till to golden and crisp and drain them on to a tissue paper to
absorb extra oil.
Heat
the chicken moghalai mix with 1 cup of water and curd into sauce pan on medium
flame for 5-7 minutes.
Now
keep vegetarian lollipop into serving platter and pour the hot gravy on the top
of lollipop and garnish with grated cheese and fresh coriander. Serve with Naan
or parathas.
Notes: For chicken lollipop, you can
use potato fingers or baby corn as stick.
Tags
: how to make vegetarian chicken, chicken Mughlai,
Punjabi cuisine, main course, gravy, soya, paneer, potato, mother's recipes,
instant recipes, lollipop recipes, chicken moghalai.
Mother's Recipe
http://mothersrecipe.com/
Enter your email address:
Delivered by FeedBurner