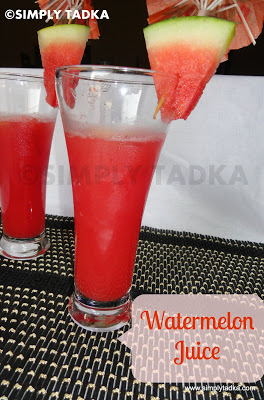 Last Updated on
Juicy watermelons are indeed packed
with some of the best antioxidants in nature. It is the season of watermelons. They
are best during the summer as they will be soft, sweet and juicy.
For upcoming summer, we prepare lots of
drinks and sometimes brought tinned juices from market which not as good for
health because of preservatives. Personally I prefer to prepare homemade juices
which are so fresh and preservative free. This time I prepare fresh watermelon
juice at home. It's really easy and simple to prepare with only watermelon
chunks. You have to just blend watermelon chunks and strain it. Add little salt
and lemon juice which increases taste.
Preparation
Time: 10 minutes
Cooking
Time: 0 minutes
Servings: 5-6
glasses
Ingredients
1 Small Watermelon
Salt to taste
1 Whole Lemon Juice
Sweetener to taste
Lemon Wedges
for garnishing
Ice-cubes
for garnishing
Watermelon
cubes for garnishing
Direction
Chop and peel the watermelon, remove the
seeds. Blend the watermelon cubes in juicer or mixer. Strain it and add salt,
sweetener and lemon juice according to taste. Garnish with lemon wedges and
ice-cubes. Serve chilled fresh watermelon juice.
Enter your email address:
Delivered by FeedBurner