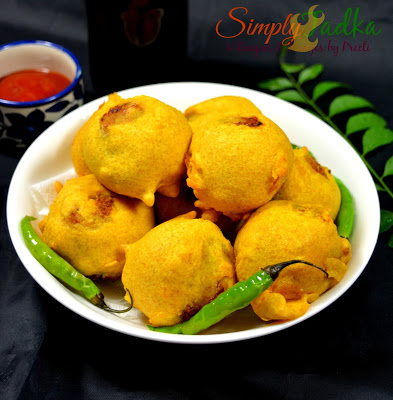 Last Updated on
Aloo
Bonda or Batata Vada is a yummy snack prepared by boiled potatoes wrapped in
flour batter and served with green chilies and green spicy chutney. For more
variation, just add chopped onion and green peas, its optional. You can serve
this recipe during festivals or when you have guests at home.
Aloo
bonda is a South Indian version of popular street food of Mumbai snack Batata
Vada. Generally it is made with boiled potatoes and onions, but sometimes I
made these vada with addition of green peas.
Aloo Bonda | Potato
Bonda | Batata Vada Recipe
Preparation Time: 15 Minutes
Cooking Time: 30 Minutes
Servings: 12 Pieces
Category: Snacks
Cuisine: Maharashtrian
Cooking Method: Fried
Ingredients:
For Potato Filling
Potato,
Boiled and Mashed
Onion,
Finely Chopped
Green
Peas, Parboiled
Green
Chilies, Chopped
Green
Coriander, Chopped
Salt to
Taste
Chilli
Powder
Coriander
Powder
Garam
Masala
For Flour Batter
1 Cup
Besan/ Gram Flour
Salt to
Taste
Chilli
Powder to Taste
1 Tsp.
Turmeric Powder
Water
as Needed
Vegetable
Oil for deep frying
Instructions:
Boil
Potatoes, mash them then add salt, chili powder, garam masala, coriander
powder. Mix it.
Heat
the 1 tbsp. oil in wok, add mustard seeds. When they starts splutter, add onion
and green chilies, saute 2 minutes.
Add
green peas and potato mash, mix it well. Remove from the flame and keep aside.
Take a
bowl, add gram flour, turmeric powder, salt and chili powder to it. Pour little
water into it and mix it gently to avoid lumps.
If
require more water, add little more water and then mix with your hand to get
right consistency neither too thick nor to lose.
Make
balls out of the mashed potatoes.
Dip
each ball in the batter and deep fry them until they turn golden – brown.
Aloo
Bonda is ready to serve with green chutney and cup of tea or coffee.
Notes: For variation, I just
add green peas and onion, you can skip it.
Tags:
how to make aloo bonda, potato bonda recipe, Mumbai cuisine, snacks, appetizer
recipes, street food, indian snack recipes, potato recipe, easy recipes, fried
recipes, monsoon recipe, blogging marathon, simply tadka.
Did you
make this recipe?
If yes,
do let us know how it turned out in the comments below.
Do share a picture with us
simplytadka@gmail.com
or share on Instagram with hashtag #simplytadkarecipes
and tag us @simplytadka.

Check out the Blogging Marathon page for the other Blogging Marathoners doing this BM#78
Enter your email address:
Delivered by FeedBurner