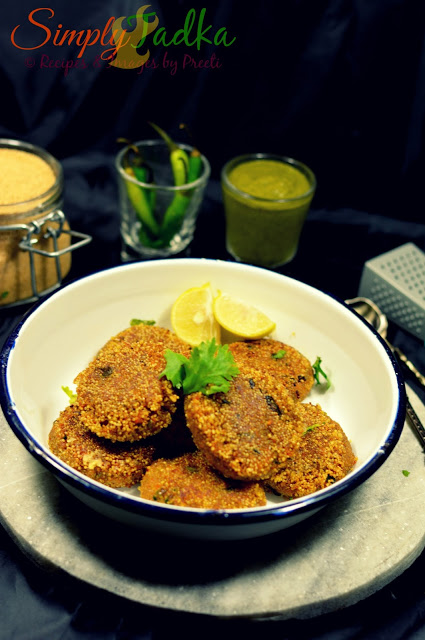 Last Updated on
Amaranth patties
or kebabs are tempting and flavorful in taste which goes amazing snack with a
cup of tea or coffee. This is an simple and easy to make snack made with
mixture of mashed potatoes, cooked amaranth, capsicum, carrot, onion and
spices. It goes amazing with mint onion chutney or any sweet spicy sauce. Even
you can serve this tikkis without adding onion- garlic during the days of navaratris
as falahar recipes.
Amaranth can be
named a super-cereal, as it is very rich in nutrients. It's also known for
its high concentration of proteins, vitamins, essential amino acids and
minerals.
Amaranth Kebabs| Protein Rich
Amaranth Tikkis
Preparation Time: 15 Minutes
Cooking Time: 30 Minutes
Servings: 4
Category: Snacks
Cuisine: Indian
Cooking Method: Pan Fry
Ingredients
2 Cups Amaranth or
Chaulai Seeds
4 Cups Water or
Vegetable Broth
2 Tbsps. Olive Oil
1 Tsp. Ginger
Garlic Paste
2 Green Chilies,
Finely Chopped
1/2 Cup Onion,
Chopped
1 Cup Boiled
Potato, Mashed
1/2 Cup Carrot
& Capsicum, Finely Chopped
Salt to Taste
Red Chili Powder to
Taste
Pepper Powder to
Taste
1/2 Tsp. Amchoor
Powder/ Raw Mango Powder
1/2 Tsp. Coriander
Powder
2 Tbsps. Coriander
Leaves, Chopped
Bread Crumbs or
Panko
Oil for Pan Frying
Instructions
Boil the vegetable
broth or water with salt and oil on medium flame.
When water starts
boiling, add the amaranth seeds and stir well.
Cover the pan and
let it simmer for 20 minutes or till to water absorbs on low flame. After
cooked, keep aside.
In another pan,
add 1 Tbsp. Oil, sauté garlic paste, green chilies and onion till to
translucent.
Add chopped
capsicum, carrot and saute 2 minutes.
Then add mashed
potatoes, spices and mix it gently.
Remove from the
heat and keep aside to cool at room temperature.
Combine the cooked
amaranth with vegetable masala mixture.
Add chopped
coriander also. Make equal sized round shaped kebabs and keep aside in plate.
Combine cornflour,
salt and water in small bowl and make running paste.
In separate plate
keep bread crumbs ready.
Now dip the kebabs
or tikkis in cornflour mixture and then coat them in breadcrumbs.
Heat the 2 tbsps.
oil in pan on medium flame, pan fry them till to golden and crisp.
Serve hot amaranth
kebabs with mint chutney.
Tags: how to cook amaranth seeds, how to
make amaranth kebabs, amaranth seeds recipes, amaranth tikkis, amaranth, pan
fry recipes, simplytadka, food blogging, blogging marathon, protein rich
recipe, healthy recipe, vegetarian recipe, gluten free recipe, vegan, potato
recipe, snacks, kebab recipes, tikkis, Indian snacks, low fat recipe, bread crumbs
recipe.
Did you make this recipe?
If yes, do let us
know how it turned out in the comments below.
Do share a picture
with us simplytadka@gmail.com or share on Instagram with hashtag #simplytadkarecipes
and tag us @simplytadka
Check out the Blogging Marathon page for the other Blogging Marathoners doing BM# 80