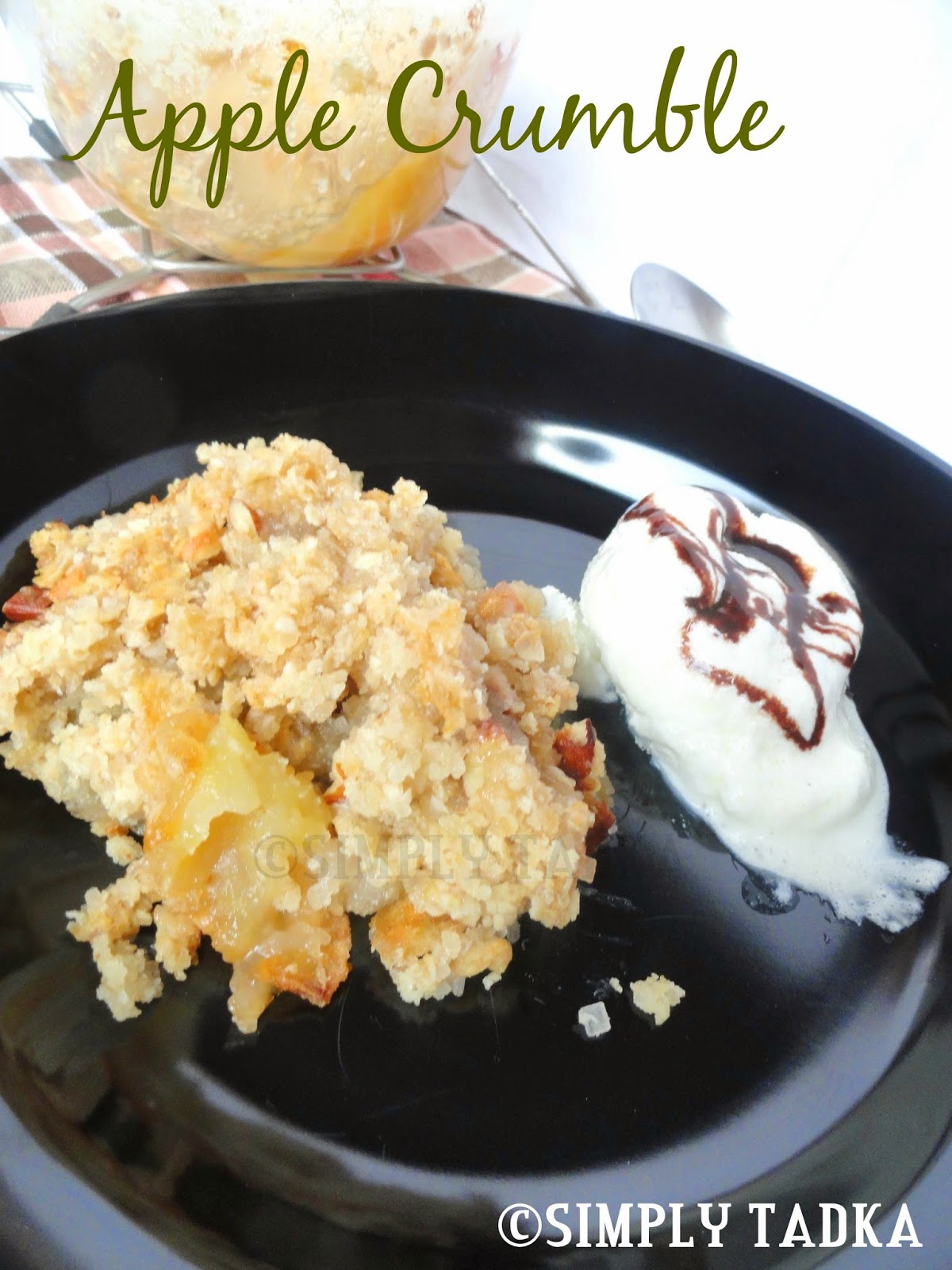 Last Updated on
This time Sweet Fantasy Club choose Apple Crumble
recipe for Feb Series under International dessert category. Apple Crumble is a
simple and crisp British Pudding and good option in dessert. The topping is
made of butter, flour, sugar, oats rolled together so that it looks like
breadcrumbs. Care must be taken to balance the correct amount of crumble with
the fruit, or else the filling may seep through and spoil this crust.
Traditionally crumble is served with custard but today preferred with
ice-creams. Apple crisp or apple crumble is dessert made with baked apples and
topped with crisp crust. Different kind of fruits can be used instead of
apples, such as peaches, berries, pears and more. I love the crispiness of this
recipe and softness of apples which comes out so well. In this recipe, I used
Quaker Oats which are so nutrients and healthy ingredients in our balance
diet.
Preparation
Time: 20 Minutes
Cooking
Time: 45 Minutes
Servings: 3
Category: Dessert
Ingredients:
2 Medium Sized Red Apple Slices, Thinly
1 1/2 Tbsp. Cornflour
2 Tbsp. Sugar
For Crumble
1/3 Cup All Purpose flour
1/4 Cup Quaker Oats
3 Tbsp. Sugar
1/3 Cup Unsalted Butter, I used white Butter
Pinch of Salt
1/2 Tsp. Baking Powder
Few Almonds and Cashewnuts
Instructions:


Preheat the oven at 180.C on baking mode for
15 minutes. In separate bowl, sieve the flour, baking powder and salt. Add
chilled butter cubes and rub it with fingertips to get crumble form.
Add sugar, oats and nuts and mix it. Keep this
crumble mixture into frige till to use.
Grease the baking pan or glassware with
butter. Arrange the apple slices and sprinkle cornflour and sugar, toss it.
Spread the crumble on the top of apple slices
and add little butter cubes to get crisp and golden crumble. Bake the apple
crumble in oven at 180.C for 45 minutes.
Keep the bowl on wire rack to cool at
room temperature and serve with vanilla ice-cream.
Tags: how to bake apple crumble, crumble recipes,
easy apple crumble recipe, apple recipes, baking, eggless apple crumble recipe,
apple crumble recipe, dessert, simple baking recipe, oats recipes, flour
recipes, simplytadka recipes, sweet recipes, international cuisine., Sweetfantasyclub. #sweetfantasyclubseries
Enter your email address:
Delivered by FeedBurner