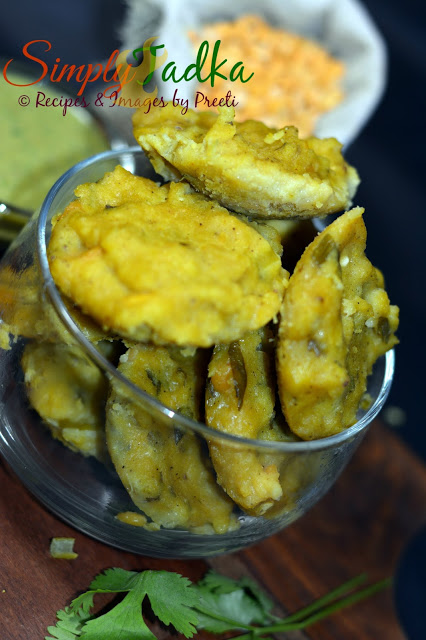 Last Updated on
Bafauri
is a simple and light snack which is made with chana dal and some spices. You
can adjust the number of chilies according to tastebuds. Bafauri is very
popular dish from the state of Bihar, Chhattisgarh and MP. This is a savory
snack which is made during festivals and occasions in Chhattisgarh.
It's
prepared with daal batter, spices and onion and served with chutney. It's a
great alternative of oily pakora for health conscious people.
Bafauri | Steamed
Bafauri Snacks | Chhattisgarh Cuisine
A steam
snack made with Bengal gram and spices and served with chutney.
Preparation time: 30 Minutes
Cooking time: 30 Minutes
Servings: 3
Category: Snacks
Cuisine: Bhojuri
Cooking Methond: Steaming
Ingredients:
1/2 Cup
Bengal Gram/ Chana Dal
1/2 Cup
Spring Onion, Finely Chopped
1-2
Green Chili, Finely Chopped
Handful
Green Coriander, Finely Chopped
1 Tsp.
Ginger, Chopped
1 Tbsp.
Oil
1/2
Tsp. Carom Seeds
1/4
Tsp. Baking Soda
Salt to
Taste
Black
Pepper Powder to Taste
1/2
Tsp. Turmeric Powder
Red
Chili Powder to Taste
Water
Instructions:
Soak
the chana dal in water for more than two three hours.
Drain
the water and grind it to make smooth paste.
Add all
the ingredients except water in separate bowl. Mix them.
Add
water if need to adjust the thick consistency batter for steaming purpose.
Cook
the bafauri for 30 minutes in steamer. Remove them.
Serve
bafauri as snacks with green chutney and tea.
Tags: Snacks, starters, Bhojpuri
recipes, bihari cuisine, evening snacks recipes, appetizers, healthy recipes,
steaming food, simply tadka, chana dal recipe, Bengal gram recipes, onion recipes,
bafauri recipe.
Check out the Blogging Marathon page for the other Blogging Marathoners doing this BM#73
Enter your email address:
Delivered by FeedBurner