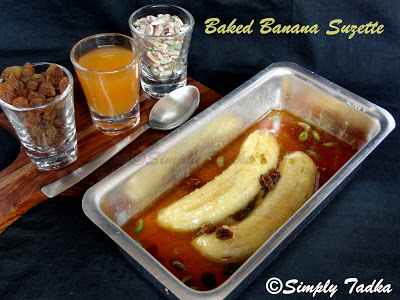 Last Updated on
Baked Banana Suzette is French dessert
which made with baked bananas. Bananas drizzled with cardamom, vanilla and
orange juice flavor based sauce and serve with vanilla ice-cream. You can serve
with any flavor of ice-cream which you like. I prepared this recipe under the
blogging marathon#55 "French cuisine" theme.
Preparation:
Time: 10 Minutes
Cooking
Time:  30 Minutes
Servings:
2
Cuisine:
French
Category:
Dessert
Ingredients
4-5 Bananas 
150gm sugar
200ml Orange Juice
50gm Butter
1Tbsp Vanilla Essence
1 Tsp. Cardamom Powder
For
Garnishing:
Lemon Zest 
Raisins
Pistachioes
Brown sugar 
Instructions:
Peel the bananas and place in baking
dish. Melt the sugar in sauce pan and cook till to color changes and add orange
juice, butter, vanilla essence and cardamom powder and bring a boil. Then pour
over the peeled the bananas.
Sprinkle lemon zest, raisins, pistachios
and brown sugar over the bananas and bake it for 15 to 20 minutes at 170 degree
Celsius. Serve hot baked bananas with Ice-cream.
Tags: Banana, Banana recipes, French recipes, Dessert, sweet
recipes, baked recipes, orange, butter, brown sugar, cinnamon, cardamom,
raisins, pistachios, Blogging Marathon.
Enter your email address:
Delivered by FeedBurner