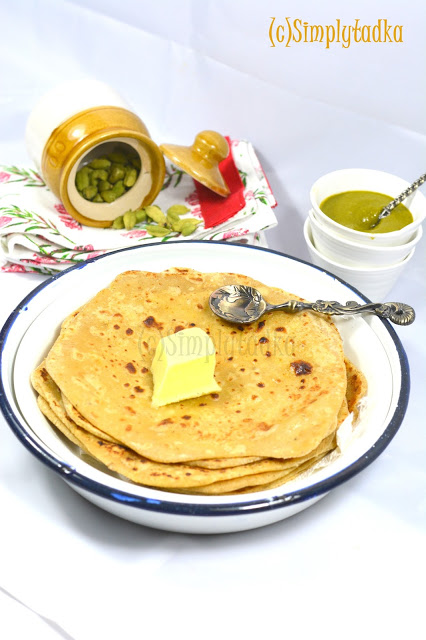 Last Updated on
When we heard about banana
paratha, what comes in our mind first, raw banana stuffed with lots of spices
or banana stuffed liquidy paratha… no its a little sweet, very healthy and
tummy fill paratha or you can say sweet Indian flatbread..
Its good for adults as well
as kids, even good for toddler also. You can serve these parathas with pickle
or raita whatever you like in lunch or breakfast, even in tiffin also.
For this recipe, you have
cooked banana with sugar and knead the dough with flour as paratha or phulka
dough. When we add banana as puree with dough, it automatically makes paratha
soft and fluffy like breads. Make sure you used desi ghee for cooking parathas,
it increase the taste and quality.
Banana is very healthy fruit
which includes own sweetness and component of vitamin c which helps in making
strong and flexible bloood vessels. If you want to add banana in your kid' diet
then banana paratha is best way to serve them.
Banana
Paratha| Indian Flatbread Recipe
Preparation
Time: 15 Minutes
Cooking
Time: 30 Minutes
Servings:
4
Category:
Indian Bread
Cuisine:
Fusion
Cooking
Method: Tawa Cooking
Ingredients
For Dough
1 1/4 Cup Ripe Banana
Chopped
2 Cups Whole Wheat Flour
1/4 Cup Sugar
1/2 Tsp. Cardamom Powder
1/2 Tsp. Salt
1 Tbsp. Clarifying Butter
1/4 Cup Water
Other
Ingredients
Wheat flour for Dusting
Desi Ghee or Oil for Frying
Instructions
Heat the ghee in non-stick
pan, add chopped banana and saute few seconds.
Now add sugar, cardamom
powder, salt and water, mix it and cook till to banana get soft and sugar
dissolves.
Remove from the flame and
keep aside to cool.
Combine flour and banana
mixture in deep bowl.
Add enough water to knead
the semi soft dough.
Now cover with dump clothe
and keep aside for 10 -15 minutes alteast.
Divide the dough into equal
ratio.Roll it using rolling pin into circle, add little flour for rolling.
Grease little oil in center
and fold the edges in center. Again roll it into circle using little flour.
Heat the non-stick tawa or
griddle and cook each paratha on a medium flame using little ghee on both side
till to golden and cook.
Serve hot banana paratha
with chili or mango pickle.
Tags: how to make banana
paratha, tawa cooking, tawa recipe, simplytadka recipe, indian recipe, indian
bread recipe, indian flatbread recipe, flour recipe, winter recipe, sweet
flatbread recipe, banana recipe, main course recipe, paratha recipe, healthy
recipe.
Did you
make this recipe?
If yes, do let us know how
it turned out in the comments below.
Do share a picture with us
simplytadka@gmail.com or share on
instagram with hashtag #simplytadkarecipes and tag us @simplytadka

Check out the Blogging Marathon page for the other Blogging Marathoners doing this BM#78