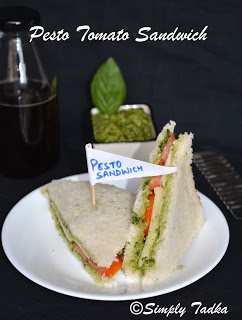 Last Updated on
Pesto Italia is a sauce originating in Genoa in the Liguria region of northern Italy (pesto alla genovese), and traditionally consists of crushed
garlic, basil, and European pine
nuts blended with olive oil, Parmigiano-Reggiano (Parmesan cheese). But I made quick
and easy version with combination of basil and coriander with blanched almonds
instead of pine nuts. I made quick sandwich with this pesto sauce, tomato
slices and slice of cheese. Love the nutty and basil flavor in this spread
which can be store for more than one month in freeze.
Basil and Coriander Pesto Sauce-
Homemade
Preparation
Time: 10 Minutes
Cooking
Time: 0 Minutes
Servings:
1 Cup
Category:
Condiments
Cuisine:
Italian
Ingredients:
1 Cup Basil Leaves
1 Cup Coriander Leaves
20 Almonds, Blanched
1/4 Onion, chopped
3/4 Cup Parmesan Cheese, Grated
1 Tsp. Garlic Powder
Salt to taste
1/3 Cup Olive Oil
Instructions:
Wash and clean the basil leaves and
coriander leaves.
Combine basil leaves, coriander, almonds,
onion, salt, garlic powder, cheese and olive oil together and grind them till
to smooth consistency paste.
Store this sauce in airtight jar in
freeze for making sandwiches, pizzas or pastas.
Tags: how to make pesto sauce, pesto sauce, Italian
condiments, sauces, side dishes, Italian sauces, coriander pesto, basil pesto,
basic recipes, homemade condiments, simplytadka, basil recipes, coriander
recipes, olive oil, parmesan cheese.
Check out the Blogging Marathon page for the other Blogging Marathoners doing BM# 56