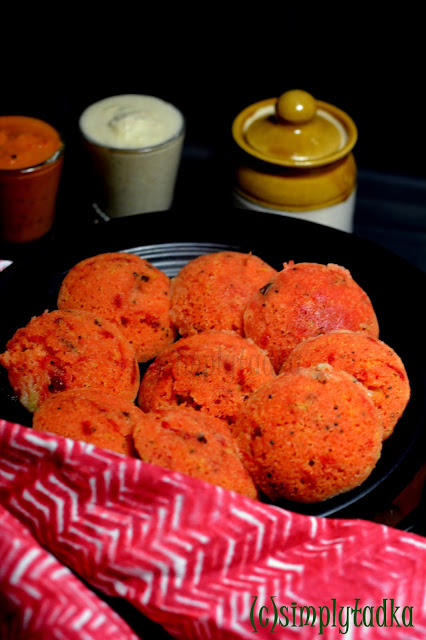 Last Updated on
Beetroot idli is really
healthy meal for breakfast time which you can serve with green chuthey or
tomato chutney. These idlis are made by simple combination of semolina aka
raava and yogurt. But to give beetroot flavor in this idli, we add the
tempering of beetroot which gives color and flavor both.
For beetroot flavor, we just
cook grated beetroot with mustard seeds, curry leaves, dal chilies and ginger.
Red color idlis looks so
soft and delicious to eat, even you can serve this recipe as tiffin meal for
kids and adults.
Beetroot
Rava Idli
Preparation
Time: 20 Minutes
Cooking
Time: 15 Minutes
Servings:
4
Category:
Snacks
Cuisine:
South Indian
Cooking
Method: Steaming
Ingredients
Beetroot
Tempering
1/2 Cup Beetroot, peel and
grated
1 Tbsp. Oil
1Tsp. Mustard Seeds
1/2 Tsp. Urad Dal
Few Curry leaves
1 Green Chilies, Finely
chopped
1 Tsp. Ginger, Finely
chopped
1/4 Tsp. Asafoetida
Few Cashewnuts, Broken
For
Mixture
1 1/2 Cup Semolina
1/2 Cup Yogurt
Salt to Taste
1/2 Cup Water
3/4 Tsp. Eno Salt
Oil for greasing
1/2 Cup Beetroot Masala
Instructions

Combine raava, yogurt, salt
and water to make smooth batter without lumps and keep aside for few minutes.
Heat the oil in non-stick
pan, add mustard seeds, asafoetida, curry leaves, green chilies, ginger. Add
broken cashews and saute one minute.
Add grated beetroot and
saute few seconds and remove from the flame to cool down.
Add beetroot tadka in rava
batter and mix it well. Add eno and mix it.
Grease the idli plate and
add ladleful batter in each section.
Steam it for 15 minutes till
to cook.
Serve hot with chutneys.
Tags: how to make beetroot
idlis, beetroot recipe, beetroot rava idlis, idlis recipe, snacks, healthy
meal, steam recipe, south indian recipe, tiffin recipe, red color food, easy
recipe, vegetrain recipe.
Did you
make this recipe?
If yes, do let us know how
it turned out in the comments below.
Do share a picture with us
simplytadka@gmail.com or share on
instagram with hashtag #simplytadkarecipes and tag us @simplytadka
Check out the Blogging Marathon page for the other Blogging Marathoners doing this BM#78
Enter your email address:
Delivered by FeedBurner