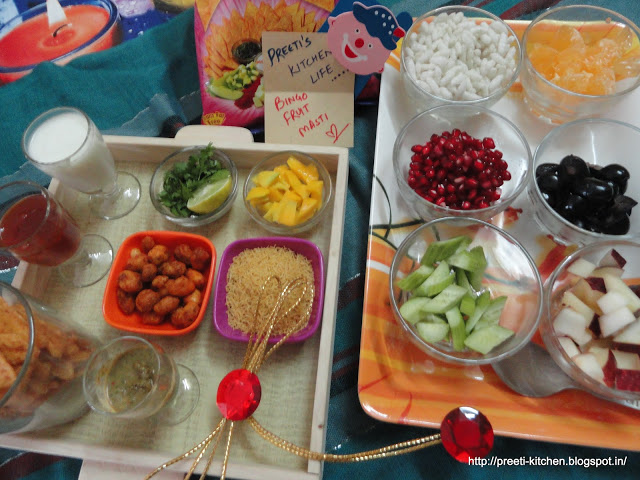 Last Updated on
Now these days
everyone little conscious about diet and they are not want to consider fat or
junk food but still chaat is very common but still very famous in over
surrounding, no one can say no to chaat… so here I do little change with chaat
which healthy as well yummy too.
Today I post "Bingo
Fruit Masti" in which I used bingo chaat masti pack which already comes with
little chaat taste. Another change is, considering fruits instead of boiled
potatoes and papri through which we get sweet and tangy taste. Its look too colourful
and crunchy, crisp and yumm in taste also which attract everyone easily, when I
taste this chaat, really its blast on my taste buds.
Ingredients
1 packet of Bingo
Chaat Masti
Rice puffs
Peanuts masala (coated
in gram flour)
Sev (0 size namkeen)
In Fruits
Black grapes (halves
cut)
Pomegranate seeds
Orange chunks
Red apple (chopped)
Cucumber English skinny
(kakri)
raw mango (chopped) (kaccha aam)
Sauces (Sweet chutney and Green coriander chutney)
Whipped curd
In Spices
Salt to taste
Chaat masala
Roasted cumin powder
Red paprika powder
Lemon juice
Fresh chopped green
coriander leaves
Method
In a plate, place
the bingo triangle chips and add peanuts, rice puff and all fruits (anar, kaccha aam, kakri, orange chunks, black grapes, apple.
Now spread both
chutney and whipped curd on the plate.
Now sprinkle all
spices, lemon juice and chopped coriander leaves. Now sprinkle little sev on
the top as well a little quantity of fruits for garnishing.
Serve this yummilicious
chaat with loved one 🙂
Note: you can used fruits according to your availability and taste.
Submit this recipe with following :
Blogging Marathon page for the other Blogging Marathoners doing BM#14