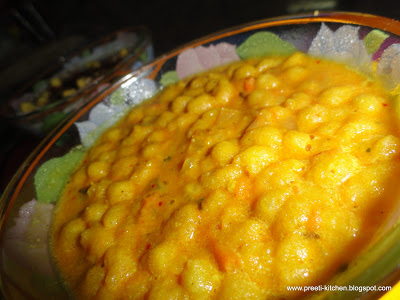 Last Updated on
Ingredients
2 tbsp. boondi
1 onion roughly
chopped
1 tomato roughly
chopped
½ tsp. green chilies
fine chopped
2 tsp. smooth curd
2 tbsp. Cream or
malai
Salt to taste
½ tsp. cumin seeds
½ tsp. red chilies powder
½ turmeric powder
A pinch of garam
masala
½ tsp. coriander
powder
½ tsp. raw mango
powder
1 cup water
Method
Heat the oil in a pan
and add cumin seeds. When they begin to change colour add onion and green chillies,
When onion sauté, add tomato and cook for 5 minutes.
Add coriander
powder, turmeric powder, garam masala, red chillies powder, raw mango powder
and mix well.
Add cream and curd
and mix well and cook for 5 min.
Now add water for
sufficient gravy
Remove the pan from
the fire and add boondi at time of serve
Serve hot boondi ki
sabzi with chapatti or puri's.
submit to this event