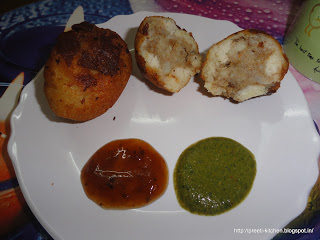 Last Updated on
A bread roll is a piece of
bread, usually small and round and is commonly considered a side dish. Bread
rolls are often used in the same way as snack with tea for breakfast or as a
evening snack—rollout, with fillings of potatoes and spices mixture.
Ingredients
2 Big Potatoes (boiled and mashed)
7-8 Bread Slices
Coriander leaves finely chopped
Green chilies (chopped)
Red Chili powder to taste
¼ tsp Garam Masala powder
Salt to taste
½ tsp. Coriander powder
½ tsp. raw mango powder
Oil for frying
Method
Add salt, chili powder, gram masala, coriander powder, amchoor powder, green
chilies and coriander leaves to the mashed potatoes, mix well. Take some water
in a bowl and dip a bread slice for few seconds. Squeeze the water from the
bread by pressing between palms gently. Place a little portion of potato
mixture over the squeezed bread and roll and seal the edges of the bread in
such a way that the filling does not comeout from any part of the bread. Repeat
the same process for making more rolls. Heat the oil in a wok and deep fry on
medium flame till golden brown. Serve bread rolls hot with green chutney and
tomato sauce.
submission