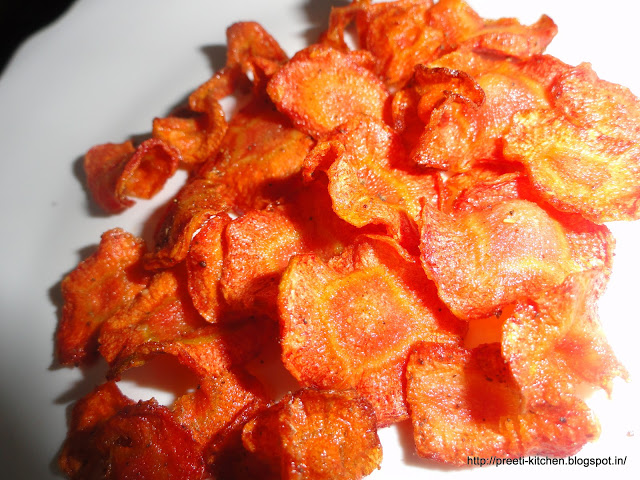 Last Updated on
Today is last day means 7th
day of BM#13 under chips theme for 1st group. It's a pleasure for us
to be a part of it and enjoy a lot with variation of different cuisine and food
patterns.
Today I post "Carrot Chips"
in which, chop the carrots in very thin and round slice and fry them in
vegetable oil and toss with salt and chaat masala. Hope all my viewers and
friends loved my all recipe this week….. And thanks for your lovely
appreciations…….
From the nutrition point of
views, carrots are healthy additions you can
make to the vegetable list in your diet. Indeed these root vegetables comes
with wholesome health benefiting compounds such as beta-carotenes, vitamin A,
minerals and anti-oxidants in ample amounts. For the recipe read more……
Ingredients
Carrot
Chaat masala
Oil for deep
frying
Method
Wash and peel the carrot and using the chip slicer
or sharp knife, slice the carrot into thin and round shape. Heat the oil in
deep and heavy bottom wok. Fry the chips in small amount until crispy and
golden, near about 5-10 minutes. Remove the chips on kitchen towel and sprinkle
chaat masala. Serve with tea and any drink. You can keep these chips in air
tight container for few days.
submit this recipe with following events:
Blogging Marathon page for the other Blogging Marathoners doing BM#13